Hiking tours with superb views
Duration
Course
Duration
(incl. Transport)
Course length
(distance on foot)
1
3 hours
3km
2
3 hours
2km
3
1.5 horus
1.3km
4
3.5 hours
8km
5
2.5 hours
1.8km
6
3.5 hours
2.5km
7
4.5 hours
4km
8
6 hours
4km
9
2 hours
4km
10
2.5 hours
2.2km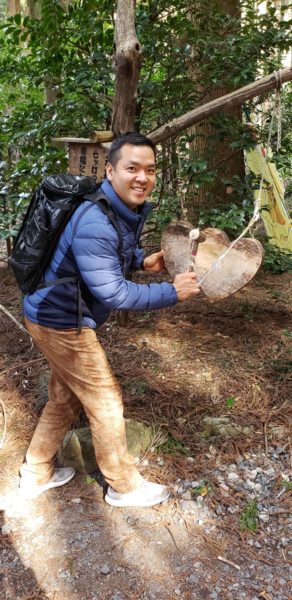 Moo Je Moon / Guide
Born in Korea and spent his youth in Seoul until graduation from a university. He then moved to Japan at the age of 28 in 2008 and now lives in Beppu with a wife and three children.
His 8-year-old girl and 5-year-old twin boys were born and raised in Beppu that their native tongue is Japanese. People often comment about his children having a better command of the Oita dialect than the father.
All outdoor activities like golf, mountain climbing, and cycling are his hobbies. The work, as well as his passion, is to promote the beautiful nature of Oita prefecture to foreign visitors. The geographically unique surroundings of Beppu city are abundant in forested mountains, active volcanoes, and the sea teeming with life. They are also the source of ingredients for delicious local cuisines! Sashimi prepared from Amberjack caught in the bay is especially tasty.
Moo Je Moon will always welcome and show the best of Beppu to visitors from all around the world with his big positive vibe!