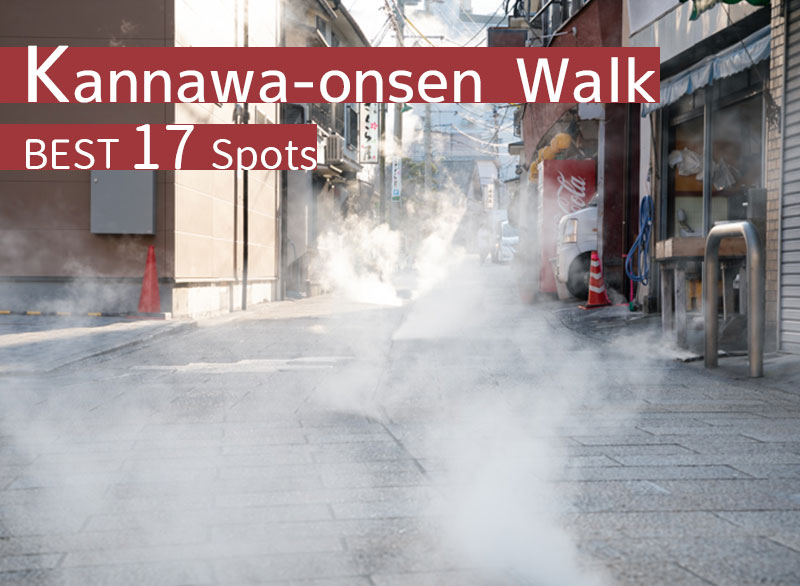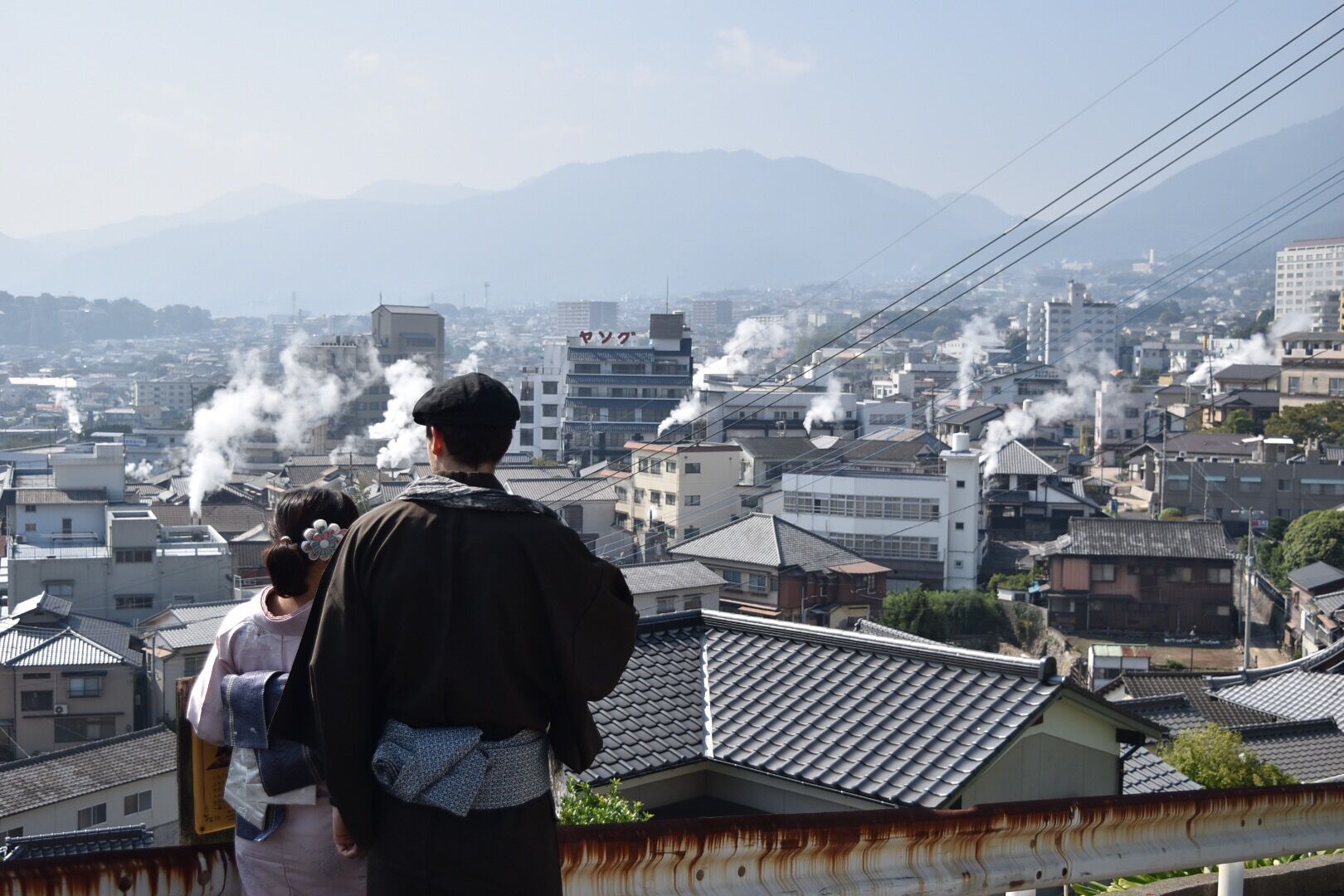 The onsen destination where the thick steam rises from every corner of the place. That is the Kannawa-onsen area. So many tourists visit this popular location everyday for its renown scenery as a hot spring and abundant number of onsens.
Let us introduce to you the spots we definitely wish you to visit out of the numerous popular spread out throughout the area.  Please relax and enjoy the journey through Kannawa through the hot spring steam.
You are allowed to bing your own foodstuff to cook! Very popular amongst domestic and international tourists "Jigoku-mushi-kobo Kannawa"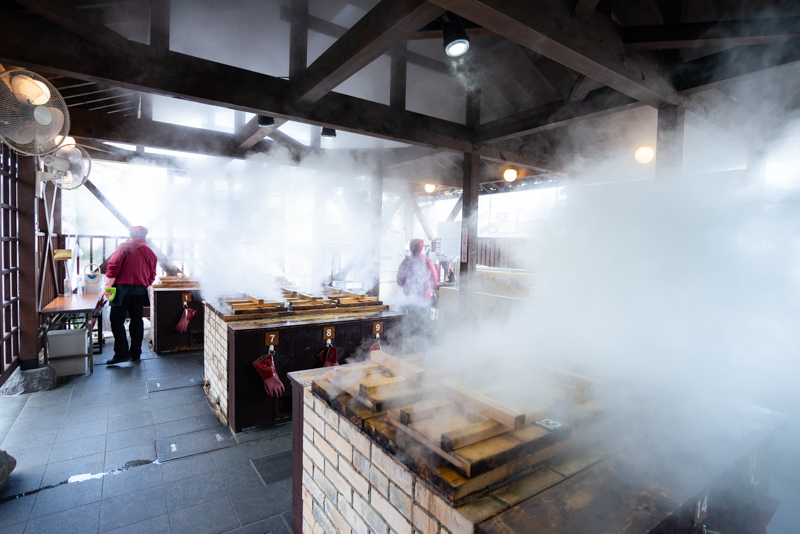 This spot is so popular that visitors line up to experience the jigoku-mushi cooking.  Go down the street with the traffic lights to your left from the Kannawa Bus Center. It will be just to your right.
Purchase tickets for the usage of a kiln (¥510 for 30 minutes) and foodstuff from the vending machine.  Place the tickets on the counter and receive your foodstuff to cook.  You are allowed to bring your own foodstuff, but there are restrictions to please check in advance.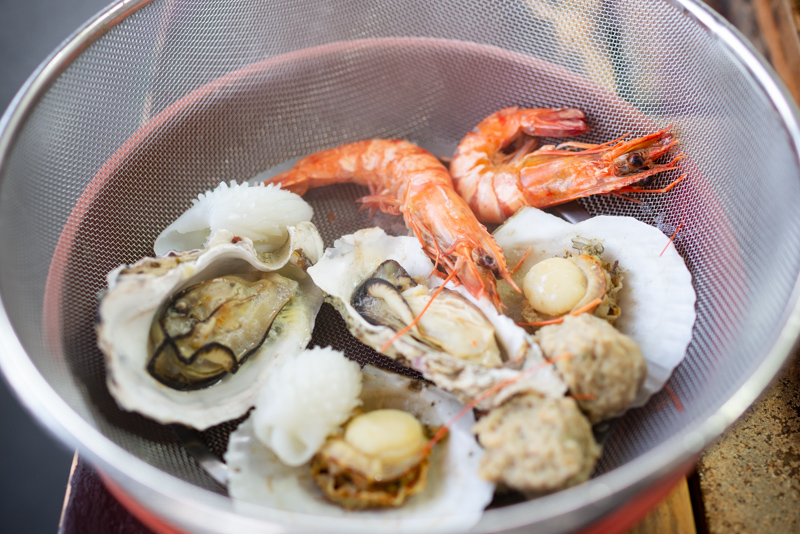 Place the foodstuff in the kiln with the guidance of the attendant and then it's keeping an eye of the kitchen-timer.  Be aware of the passing time through during the cooking since potatoes only take 30 minutes at the longest and eggs and vegetables will be done within 10 minutes.  Make sure to wash the dishes yourselves once finished.
Classic jimosen (local onsen) favored by experts "Shibu-no-yu"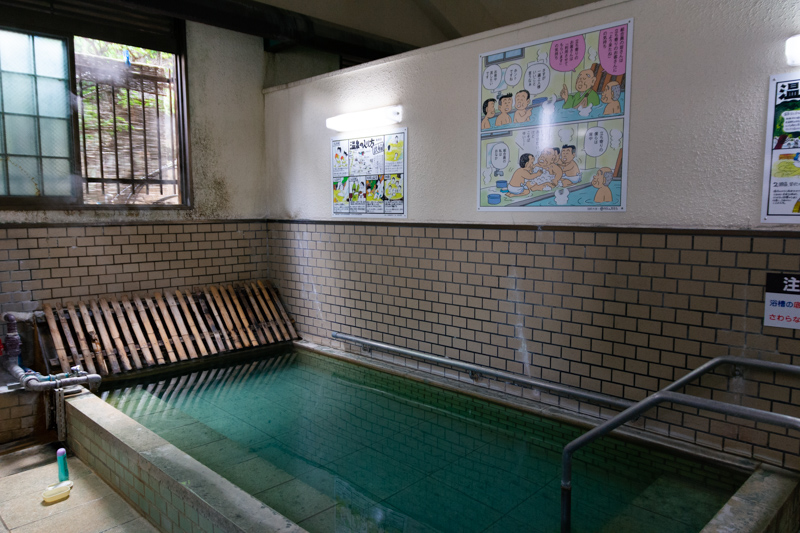 You will soon see the local onsen "Shibunoyu" on your left once you go down the street. Putting in ¥100 as the admission fee into the locker is an unfamiliar system to tourists and visitors.
Founder of Kannawa-onsen "Statue of Ippen-Shonin "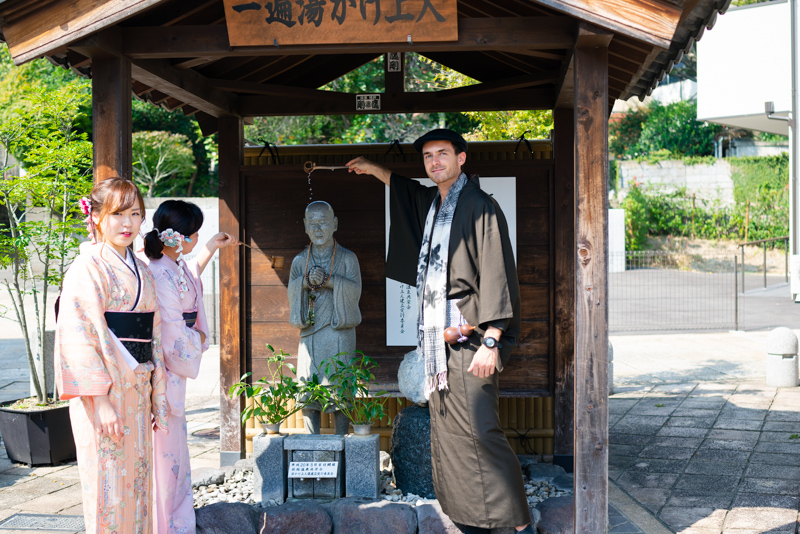 The statue of Ippen-Shonin who is said to have founded Kannawa onsen stands a little further down from Shibu-no-yu.  Pour some hot water on his head.  They say it is good to pour hot water where there is pain or where it hurts.
Wrap yourself in the aroma of herbs with the comfort of gradually being steamed "Kannawa Mushiyu"
Further down from here "Kannwa Mushiyu", said to have been built by Ippen-Shonin, is located.  This historic facility was established in 1276 (Kamakura period).  You lie down on top of a herb called Sekisho for 10 minutes.  Sweat will come pouring out from all over your body.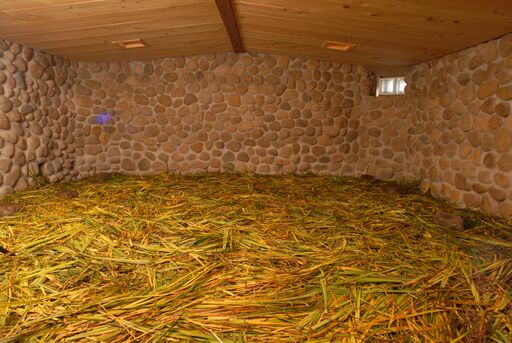 Modern architecture dating back over a hundred years "Fujiya Gallery Hanayamomo"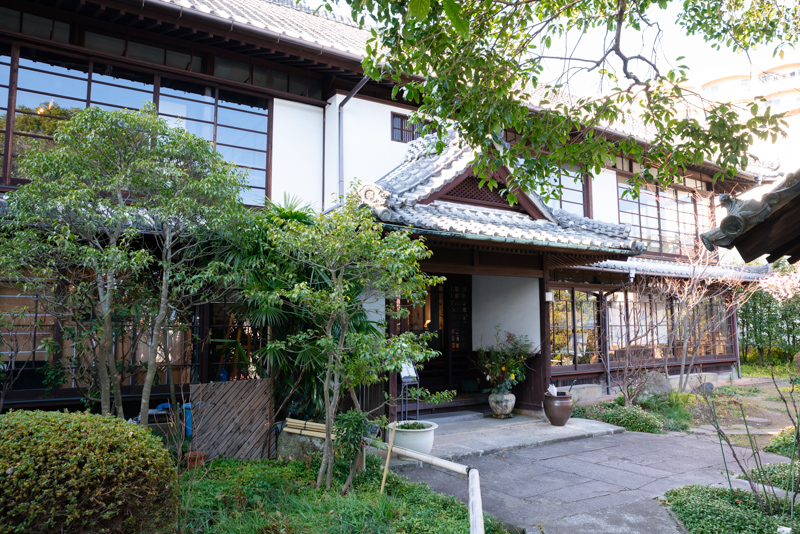 We are lucky enough to be offered a ¥220 discount ticket for "Kannawa-mushiyu" if you show your BE@BEPPU vol.3 at "Fujiya Gallery Hanayamomo"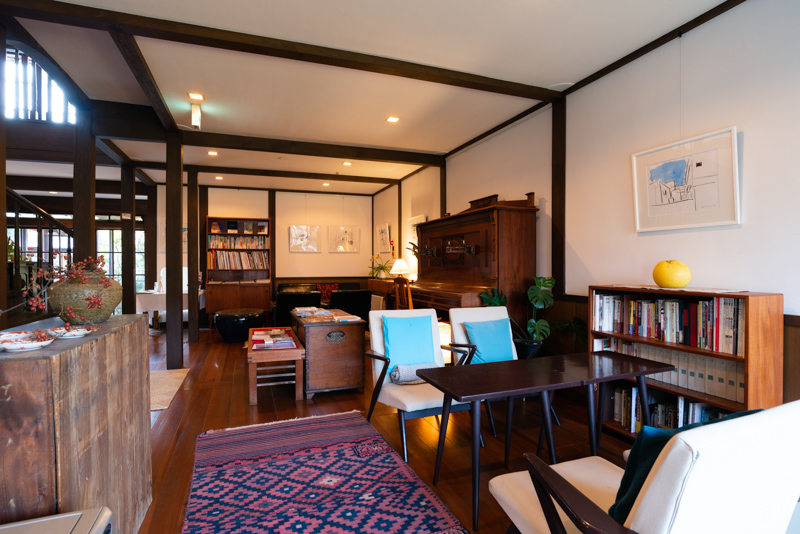 Let's relax and have like a cool drink after sweating it out in the mushiyu. Takeouts are available too!
Savor the tasty jigoku-mushi (natural steam) medicinal cooking "Mushicharo"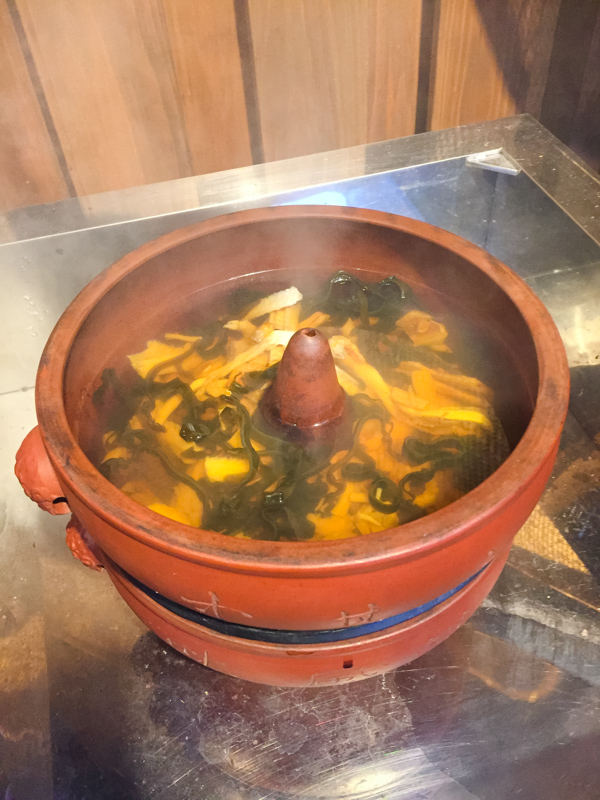 There is a jigoku-mushi medicinal cooking restaurant named "Mushicharo" if you go directly up towards your left from "Fujiya Gallery".
Address
Kannawa Furomoto 5,Beppu city
Telephone
0977-85-7775
Open time
11:30~14:00(L.O.14:00)
18:00~21:00(L.O.20:30)
Closed
Wednesday and Thursday
WEB
http://64cyaro.com/
Spend some slow and serene time with us "Kokochi Cafe Musubino"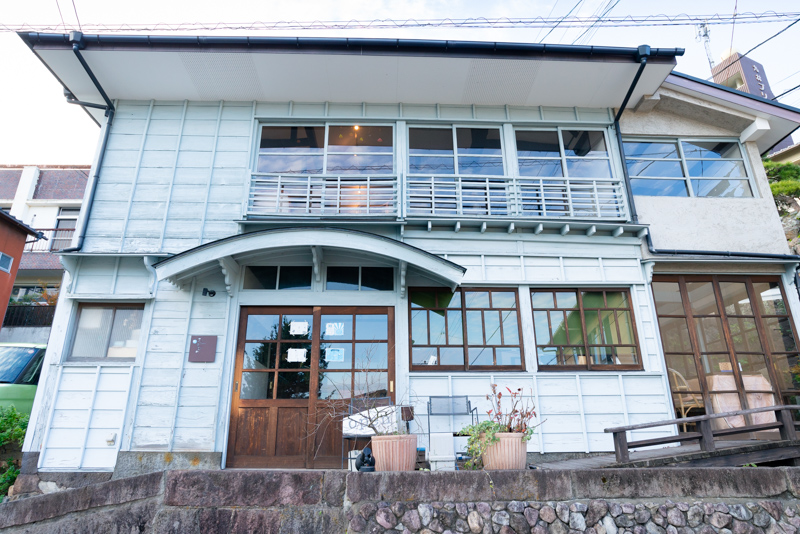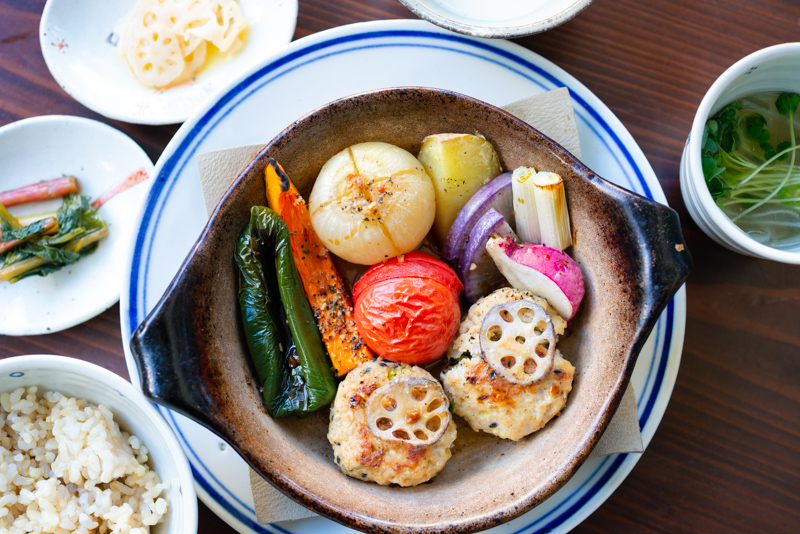 This place is well known for its delicious lunch and cafe.  The building functioned as a hospital in the Meiji period and now time passes slowly here.  The dishes on the menu are made with care and are nice to easy on your mind and body.
One of the oldest bathhouses in the Kannawa area "Netsu-no-yu"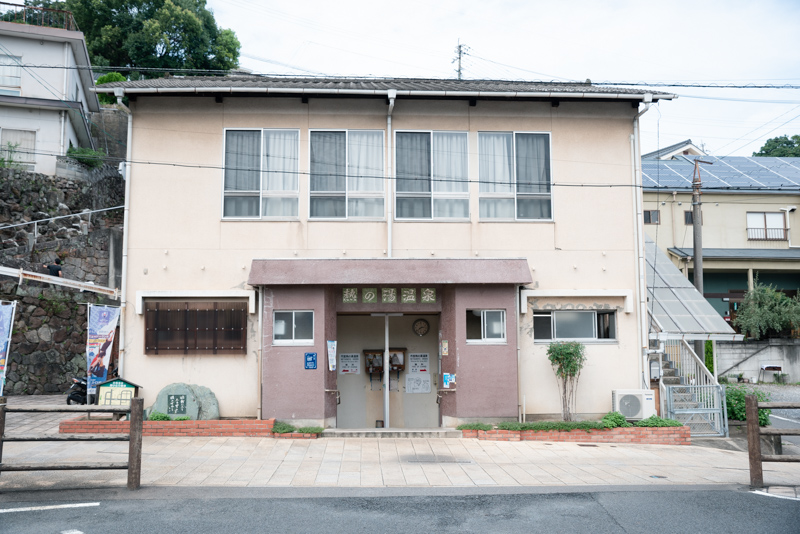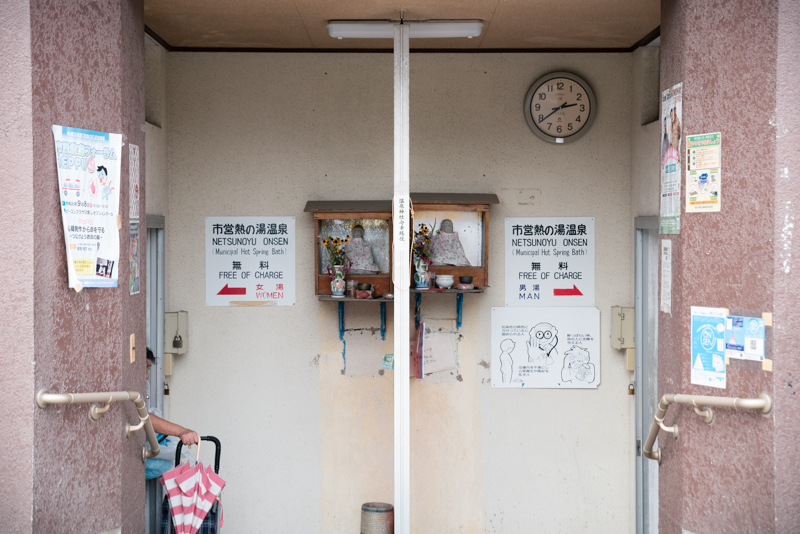 Located right below "Kokochi Cafe Musubino" is "Netsu-no-yu" which is a local onsen (jimosen) with free admission.  Packed with guests everyday.  There is parking available right in front so you can drive there!
A very hot onsen without any added cold water "Sujiyu onsen"
You will come out on Ginza-dori if you proceed further down from "Netsu-no-yu".  Go up to your your right and you'll find "Suji-yu".  This onsen is for experts; usage of soap or shampoo or even adding water is off limits.
Fancy and artistic "Alteneue" "Yanagiya" "Otto et Sette Oita"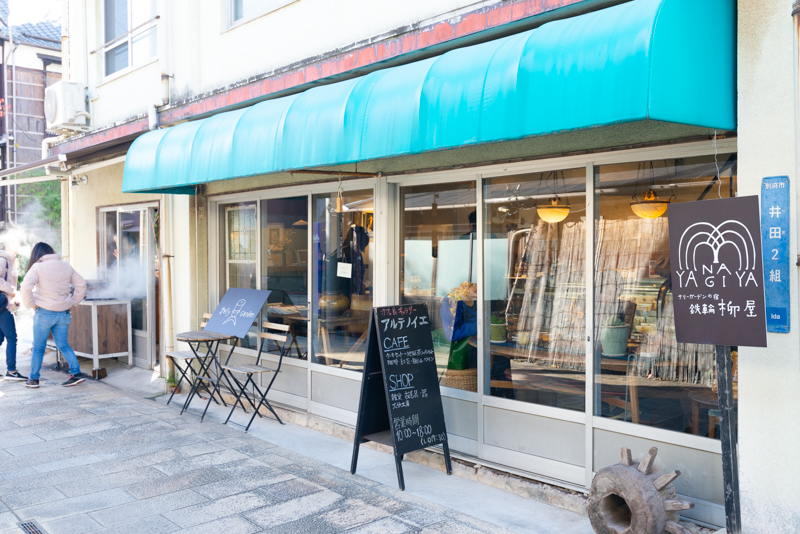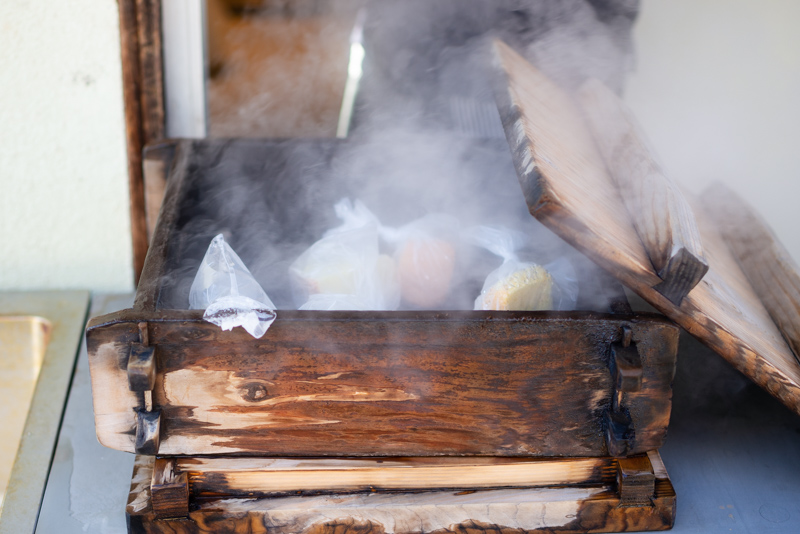 Gallery Cafe "Alteneue" will be on your right if you go back to Ginza-dori.  It is famous for its chiffon cafe.  Steaming it for a second time will make it even more delicious since it will become moist and firm.  They're generous enough to hand this "steamed chiffon cake" for free!  Would be a total waste not to have some!! 
※Please do note there are times when this service is not available.
The chic ryokan "Yanagiya" with its eye catching short split hanging curtain quivering in the wind lies ahead.   "Otto et Sette Oita",  where you can savor fine jigoku Italian cuisine arranged with ingredients produced in Oita and cooked in a jigoku-mushi kiln exists in the same premise.
・ Press here for the official sites of "Alteneue", "Yanagiya" and "Otto et Sette Oita"
Try the oppai (breasts) butaman at "Butaman Honpo"
Across from here is a newly opened soba noodle shop and "Butaman Honpo" famous for its butaman (steamed pork bun with minced pork filling).  You  will want to try these buns which are shaped as breasts at least once!
Superb ohagi (bean cake) with a slight taste of salt "Katsutaro Shokudo"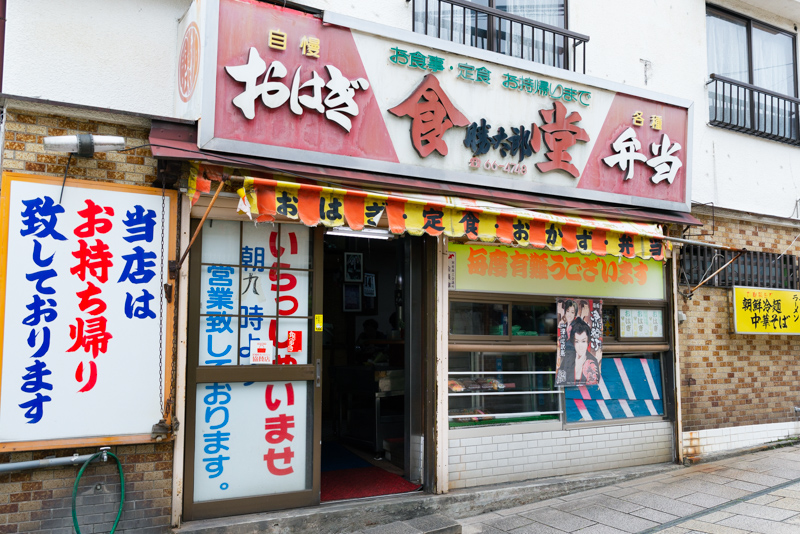 Go through Ginza-dori and come back to "Ideyuzaka" and you will find "Katsutaro Shokudo".  The homemade stye dishes are awesome.
Hardcore fans swarm to "Young Center"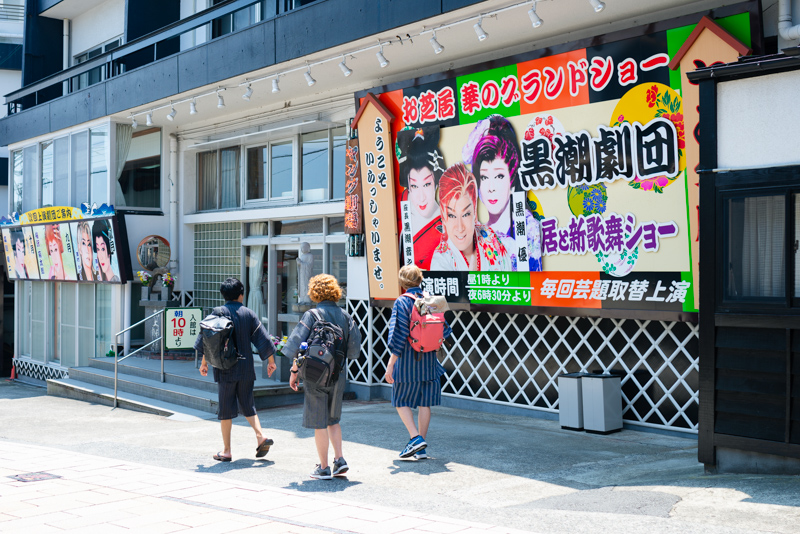 You can watch Taisyu Engeki (entertainment shows) at the accommodation facility "Young Center" which is located next to "Katsutaro Shokudo".  You can just watch the shows and not stay or make reservations.
・Press here for the official site of Young Center
Yukemuri-dori is where you can enjoy the rising steam
After a little while once you go into the small alley to the left, you will come out to a street with steam rising from the middle of the road.  Enjoy taking videos and pictures to your heart's content!
Enjoy jigoku-mushi cooking while having a foot-bath "ENMA"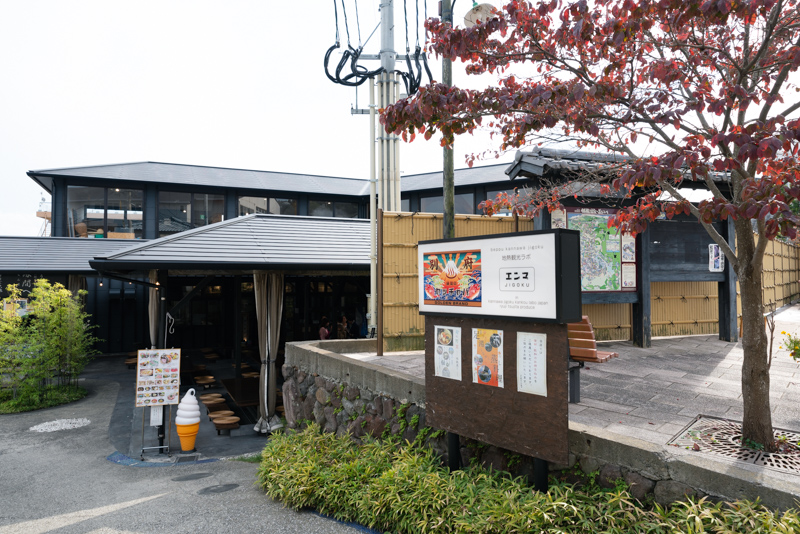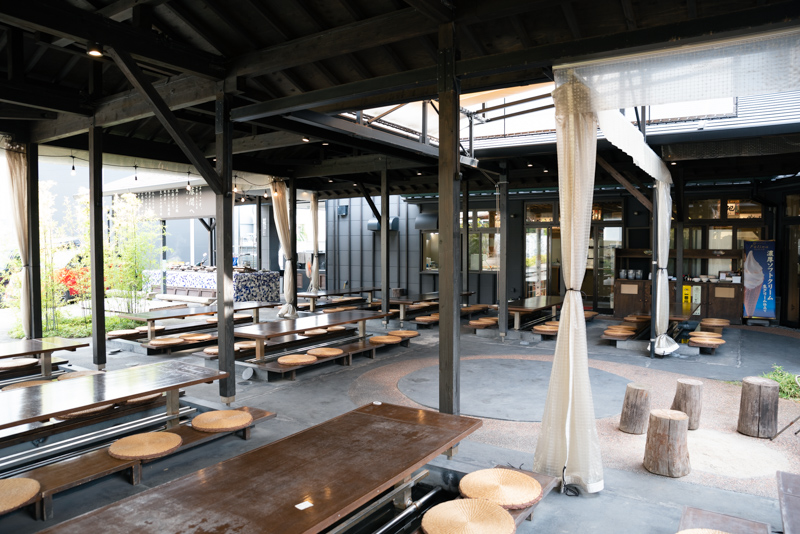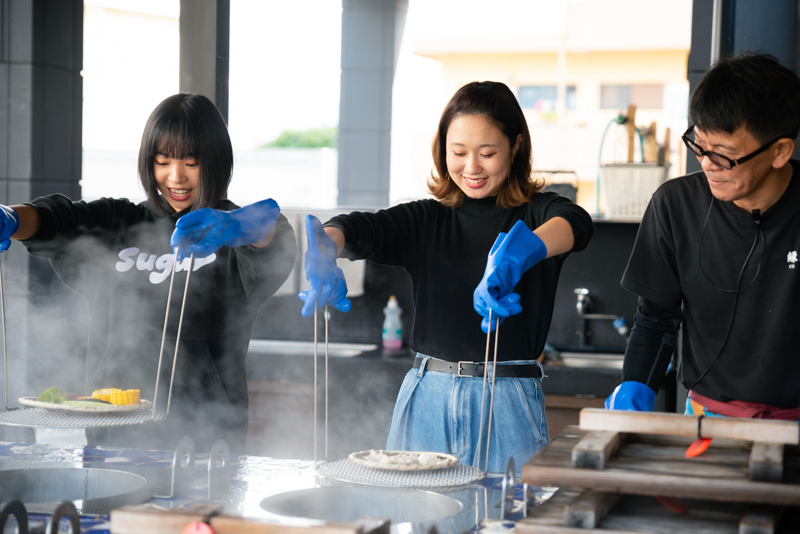 Keep on going straight up Yukemuri-dori and you will come eventually find on your lefthand side "ENMA" where you can enjoy jigoku-mushi.  Somewhat different from "Kannawa Jigoku-mushi-kobo", this place is spacious and they have a foot-baths installed under your table.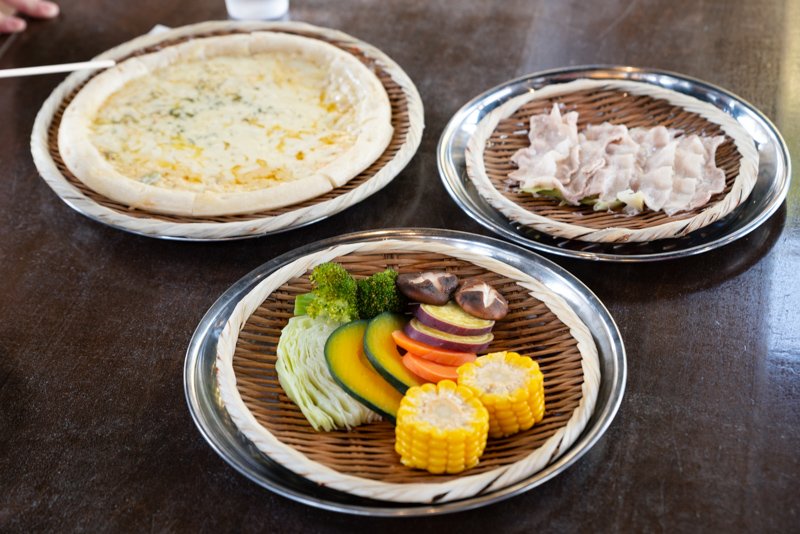 First buy tickets at the vending machine.  They have "Mushi(steamed) Pizza)" and other dishes which are quite unique for jigoku-mushi places.  They also provide a vast variety of choices on the menu other than jigoku-mushi such as bowl dishes, snacks and dessert.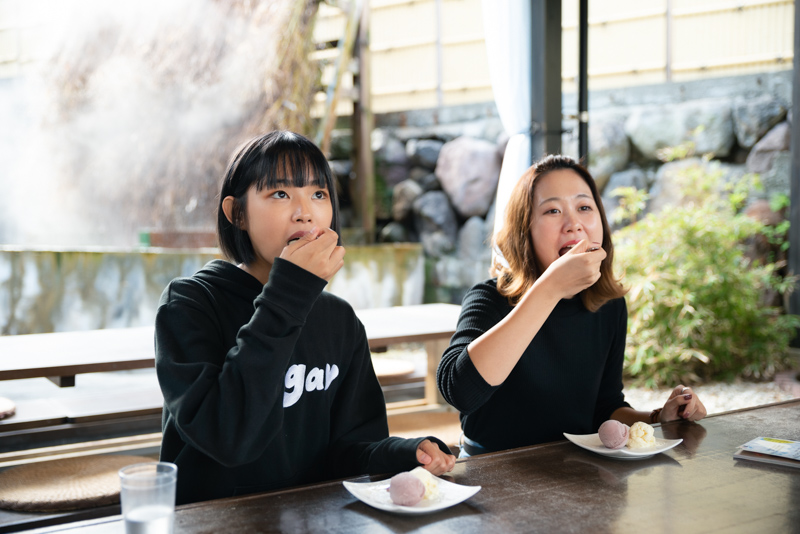 It will feel as if all the fatigue from walking around has magically disappeared since the foot-bath feels so good.  You get ice cream if you have BE@BEPPU vol.3 on you!  You may even get lucky enough to have the set with sherbet made with picked strawberries from the factory next door and ice cream for free.
・Press here for the official site of "ENMA"
Cafe packed with unbelievable sweets "Yohachiro"
Go back to the aforementioned  "Ideyuzaka" and adjacent to the "Young Center" you will find the cafe with wonderful sweets "Yotaro".  Do try not only the cakes, but also their "Tiramisu Shaved Ice"!!  The shocking appearance and taste are excellent which will please any grown person.
"Light Up Rising Steam" appears in the night sky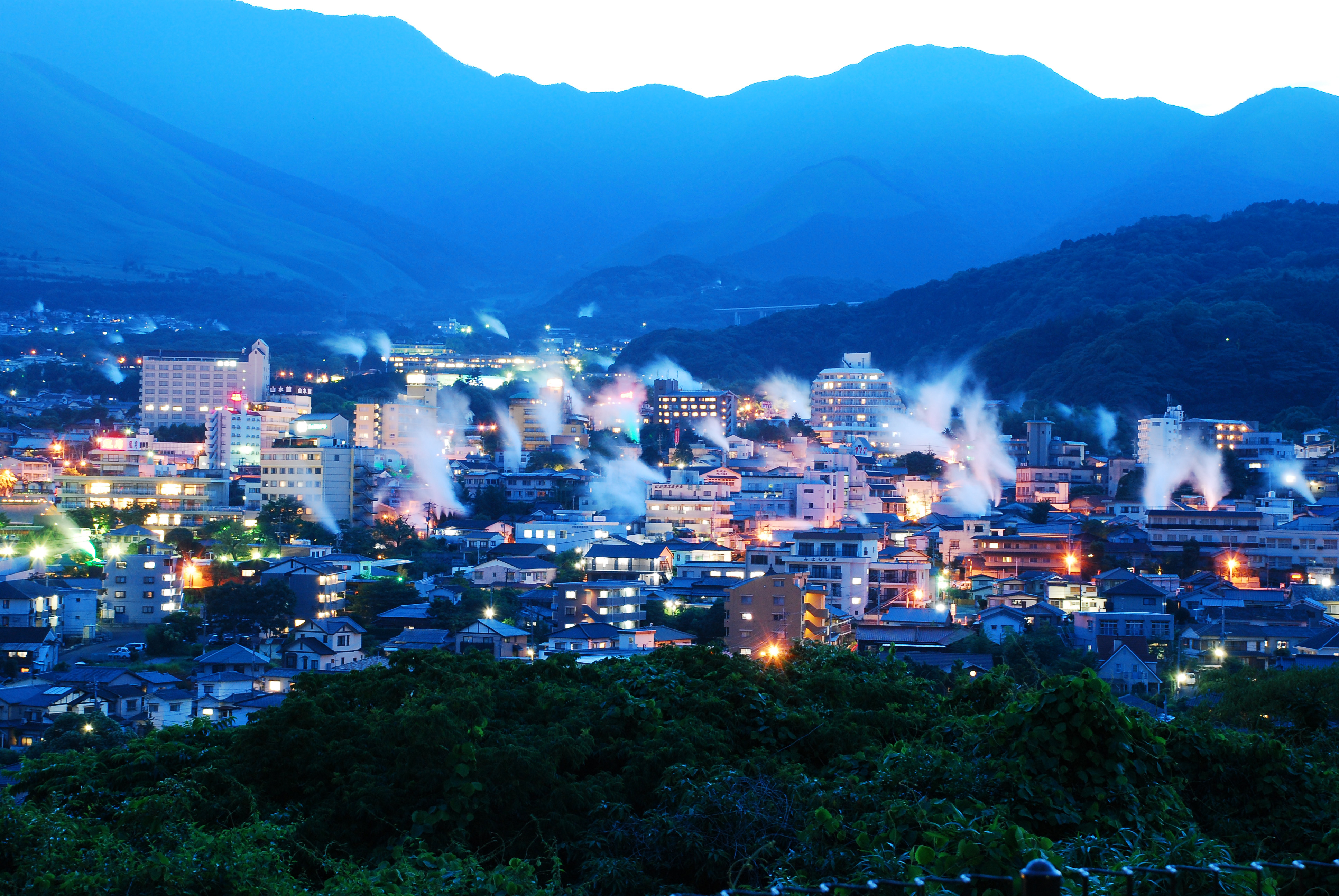 Daytime is not bad, but night walks are so beautiful with the rising steam all lit up!!
Summery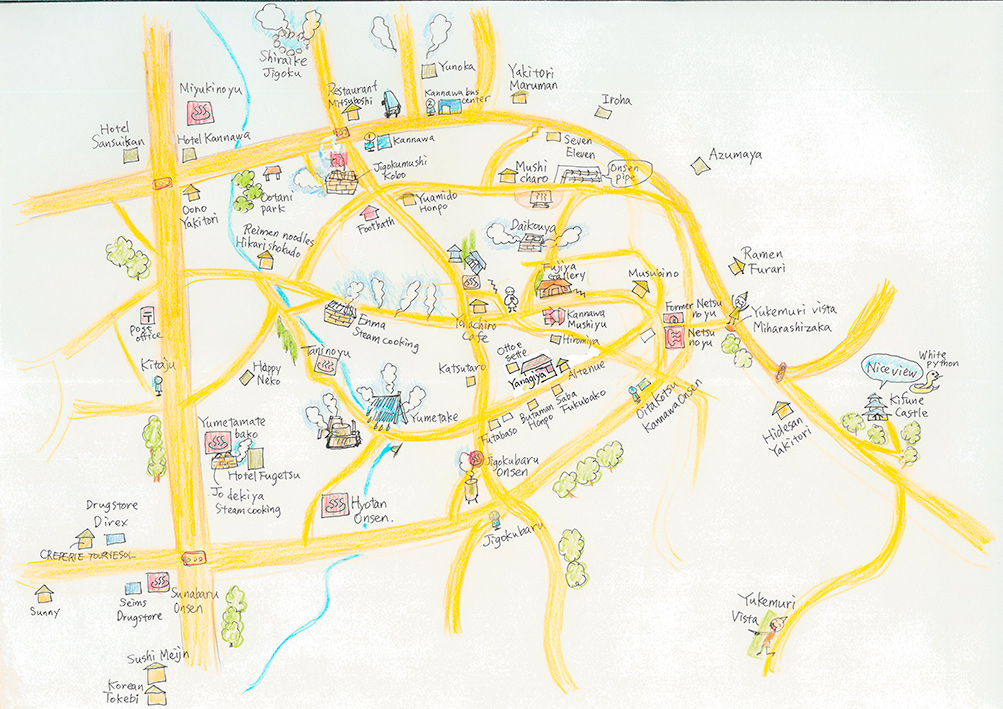 Taking the Kannawa-onsen Walk wrapped in the rising steam.  It will bring to your eyes a different scene day and night, rain or shine and any time of the year. Indulge and immerse, eat, and walk to your satisfaction!  Have a nice BEPPU, Have a nice Kannawa-onsen!!!