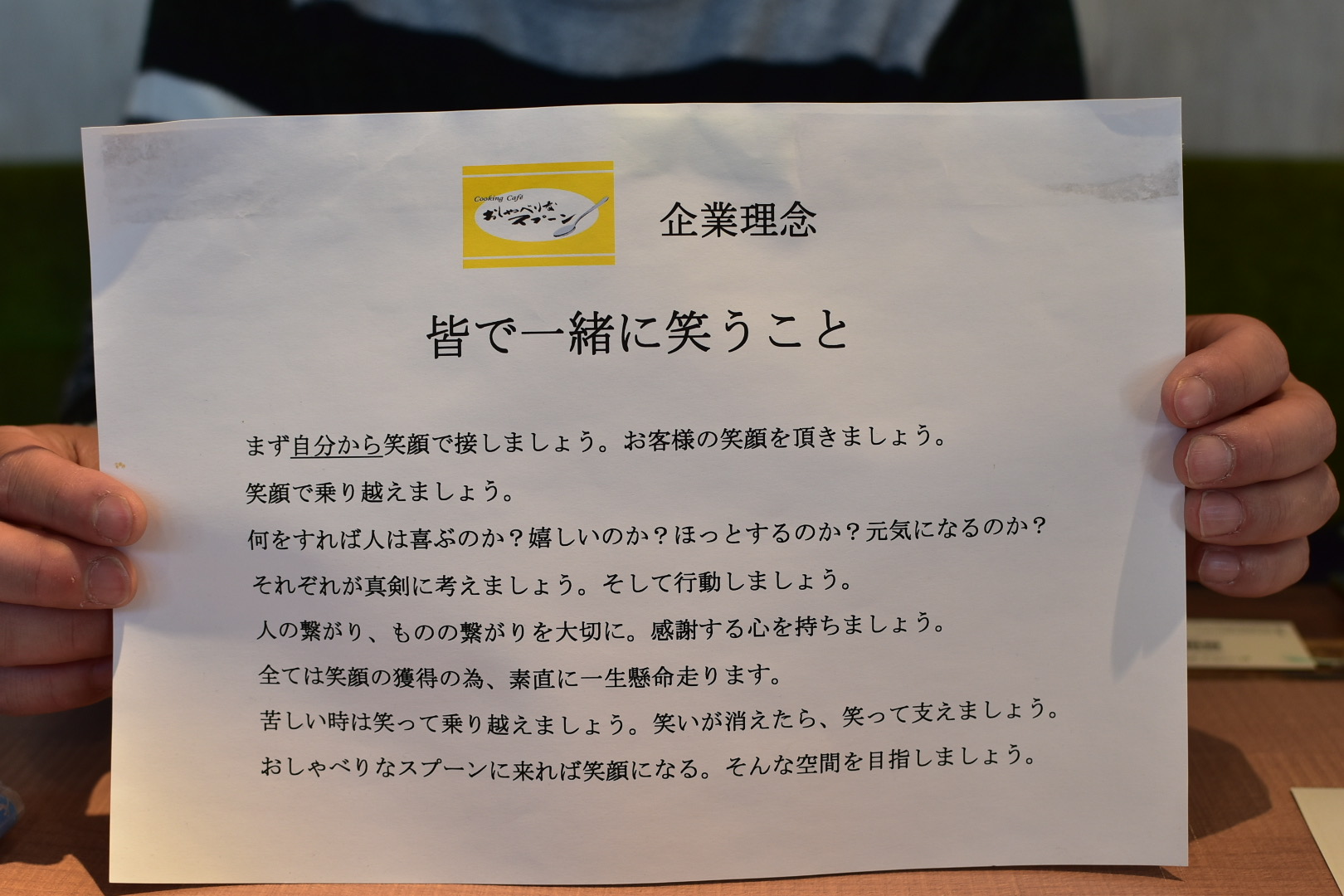 The café has a goal, "Laugh all together".
"I like places where people gather. And I like to make people smile!" Says Mr. Takashi Goto, the owner of: "Cooking café – Chatty Spoons" and a company with his nickname, "Gottsu".
Oshaberi na Spoons recently changed its name from "Night Cafe 10", which was the name of the operating company in Kumamoto. The impression of the name "Night Café" was so strong that many people started calling Gottsu-san's place, "The former Night Café". 
It has been seven years since he started the business at this location.
"In the beginning, I could not manage well in such a busy place. Bad reviews and complaints were everyday sights. It was a series of hardships back then. I had to hold myself together to get through."Gottsu-san claims. 
He is open to new ideas and often listens to young employees. 
He says it is like expanding the world when bringing in ideas he never thought of. 
"One of my employees came up with the plan of an effective line of workflow between the hall and the kitchen. The efficiency got improved so much by that! Such ideas would have never popped up on my mind."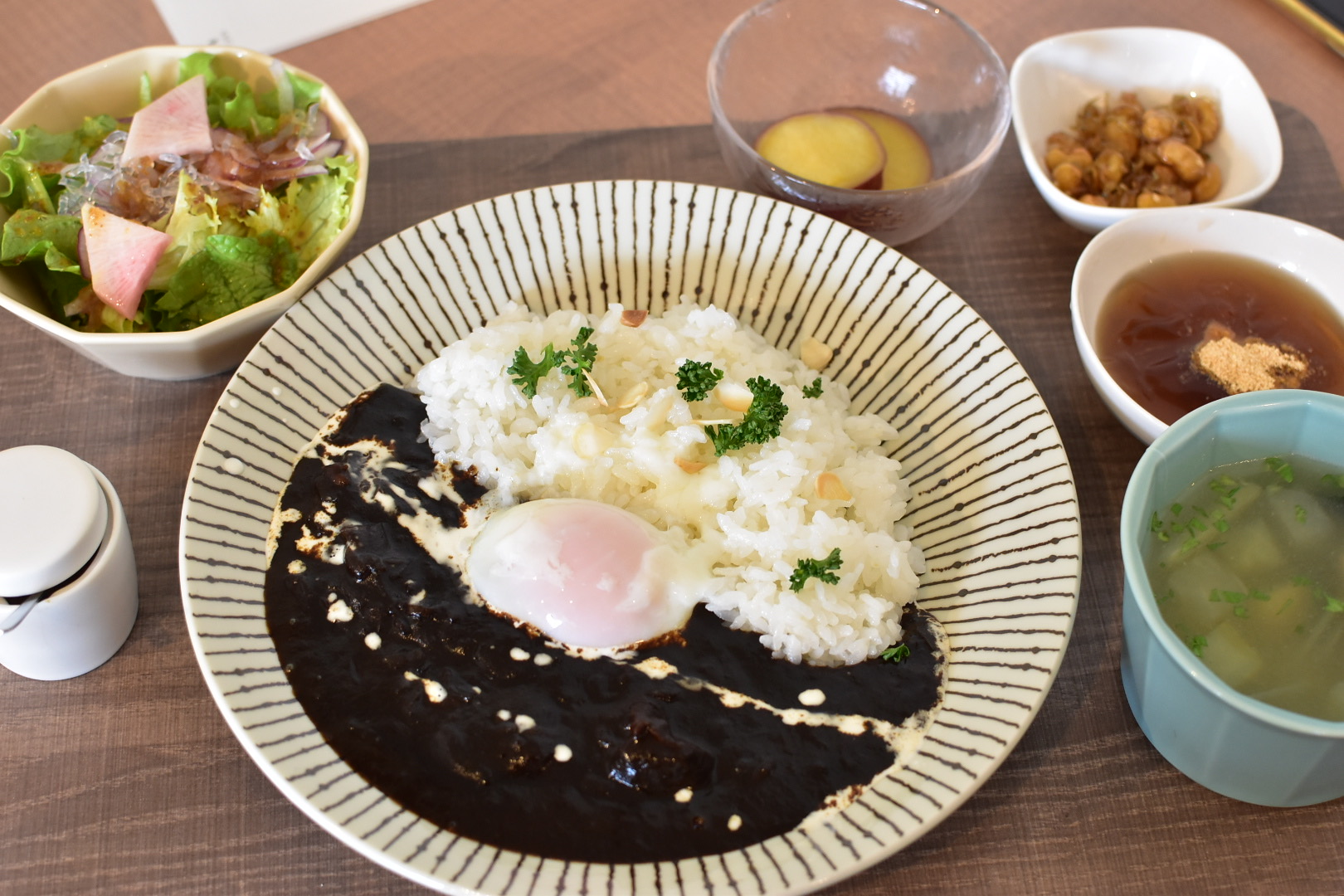 The menu of the café is mainly home-cooked dishes that need time and effort to prepare.
"Actually, I am a licensed cook, but my mother is the kind of person who participates in cooking contests or holds cooking classes. So I leave it to her for creating our menu."He says.
During the Covid-19 pandemic, the café is doing alright during lunchtime but is deserted for dinner time. 
"Last spring, the number of customers dropped so much that I often managed the shop by myself. Good or bad, only on such days, so many customers came, order sweets and drinks, along with other dishes! … Thankfully at times like these, my regular customers offered help!"He smiles.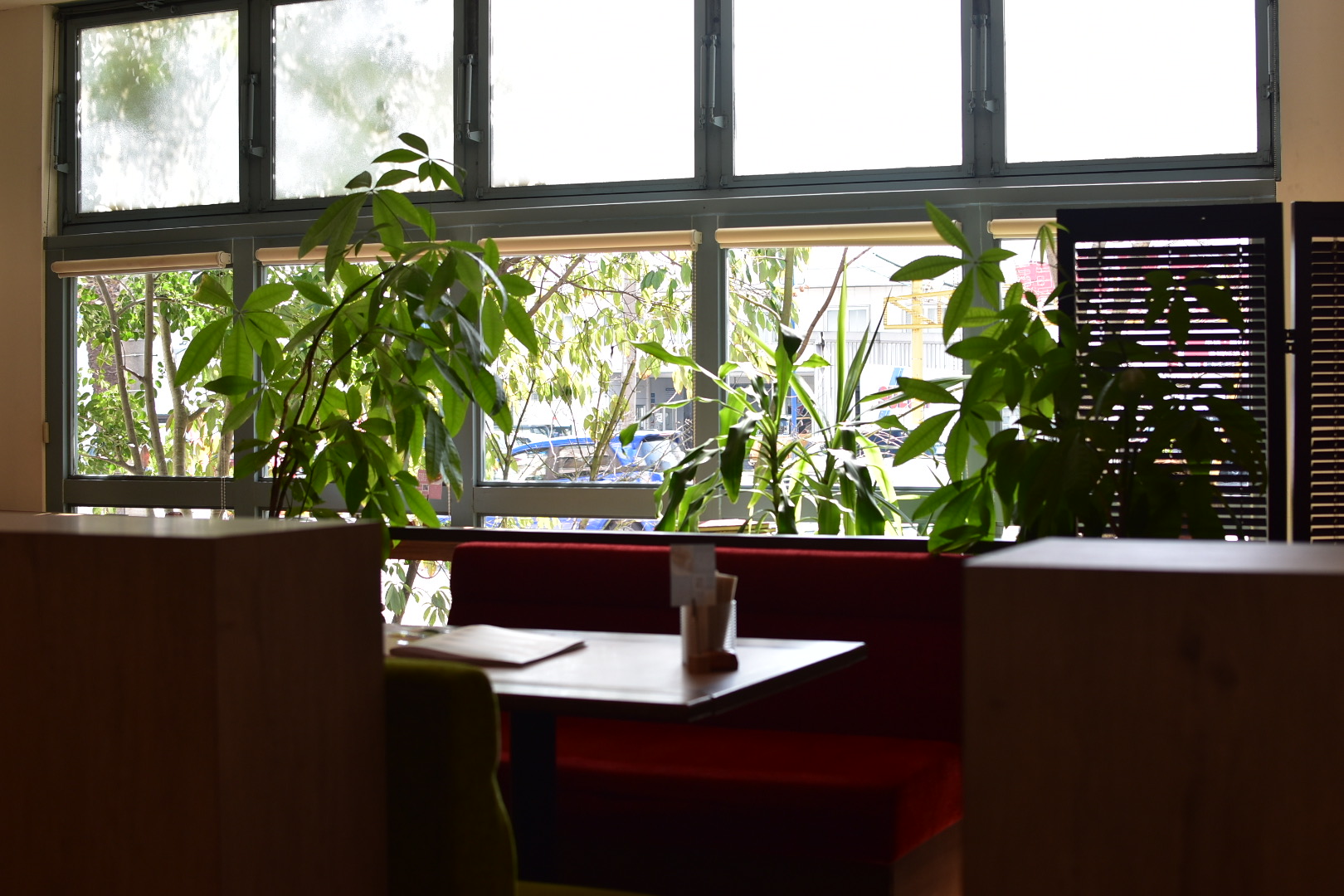 Managing a café in this ongoing situation must be very tough. 
"I've never been happier than now,"Gottsu-san claims. 
"Of course, I can't get the sales figures out of my mind. When I think too much about sales, purchasing, and other stuff, my mental state kind of gets exhausted and negatives kick in. But then, I start thinking about what I can do at that moment and turn on my "drive switches" one by one. Then somehow I am having a lot of fun!"
The relationship with Ama-cho town in Iki, Shimane Prefecture seems to be one of the places where his "drive switches" come from. 
Gottsu-san used to work in Ama-cho town for four and a half years when he was young. He recalls that he belonged to something like what we now call a "Regional revitalization team".
"I was doing product developments, helping restaurants, working to improve wages at B-type workshops where disabled people were employed." He talked happily about the time when he visited a welfare facility in Beppu with a kitchen car that he got from Ama-cho town. 
"People in the B-type workshop usually eat lunch boxes, but they don't seem to have many opportunities to enjoy a parfait, banana juice, and other slightly elaborate sweets. I was so happy that they loved what I offered!"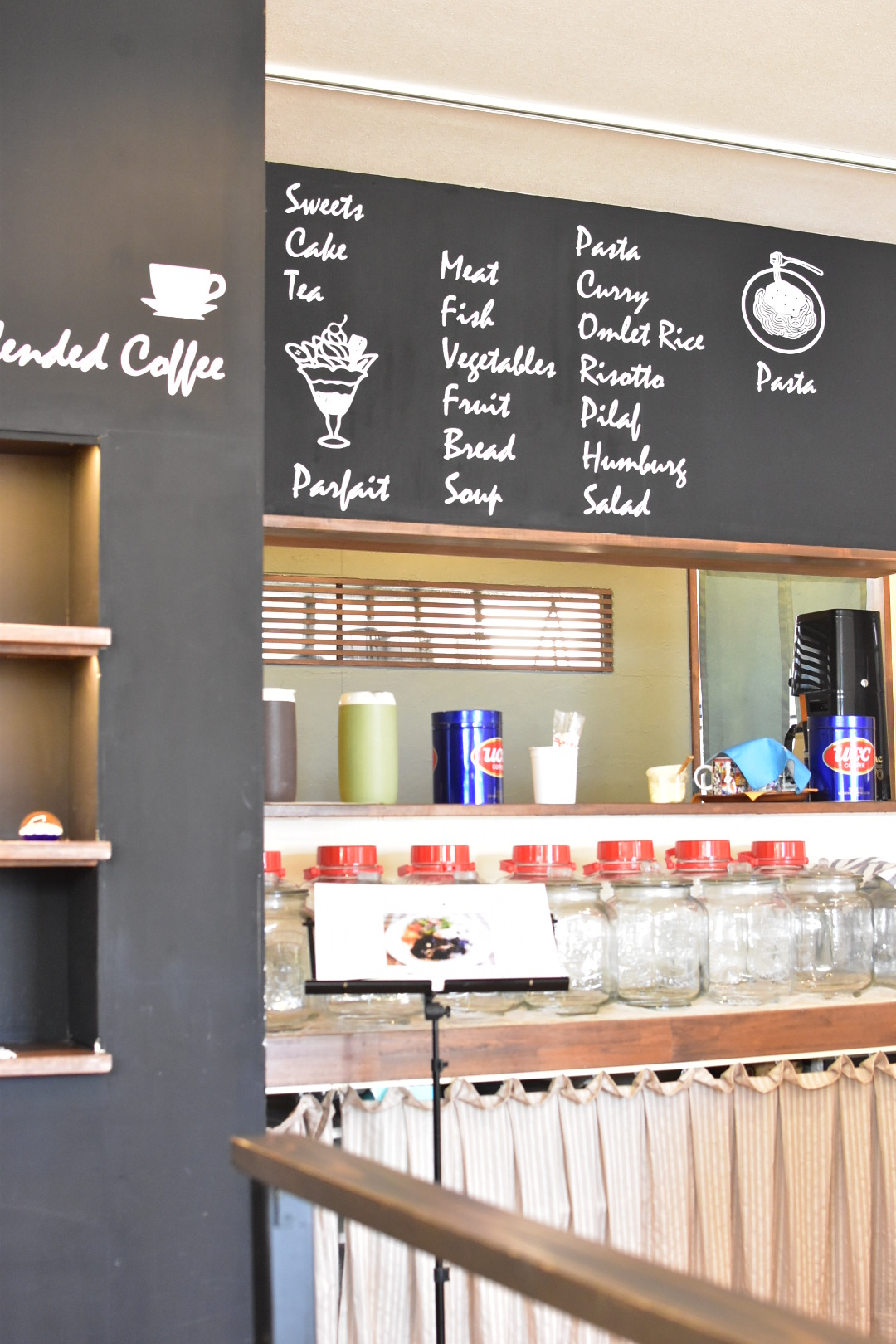 Opening a café in his hometown Beppu has always been on his agenda. Although his dream has come true, he still keeps turning on "drive switches" for what he is up to.
Today, he is also busy with a new restaurant responsible in Ama-cho town. 
Being such a hard worker, he manages all the shopping, cooking, and serving at Café Oshaberi na Spoonswhile doing so many other things.
"I'd like to have 2 to 4 employees here eventually. I need to work hard now to have the money for that."He says. 
Gottsu-san changed the name of the café to "Oshaberi na Spoons" with his wish for customers to relax and enjoy their stays for at least 2, 3 hours. Why not come and tarry a while to enjoy delicious home-cooked style dishes and his elaborate sweets! 
BE@BEPPU Recommendation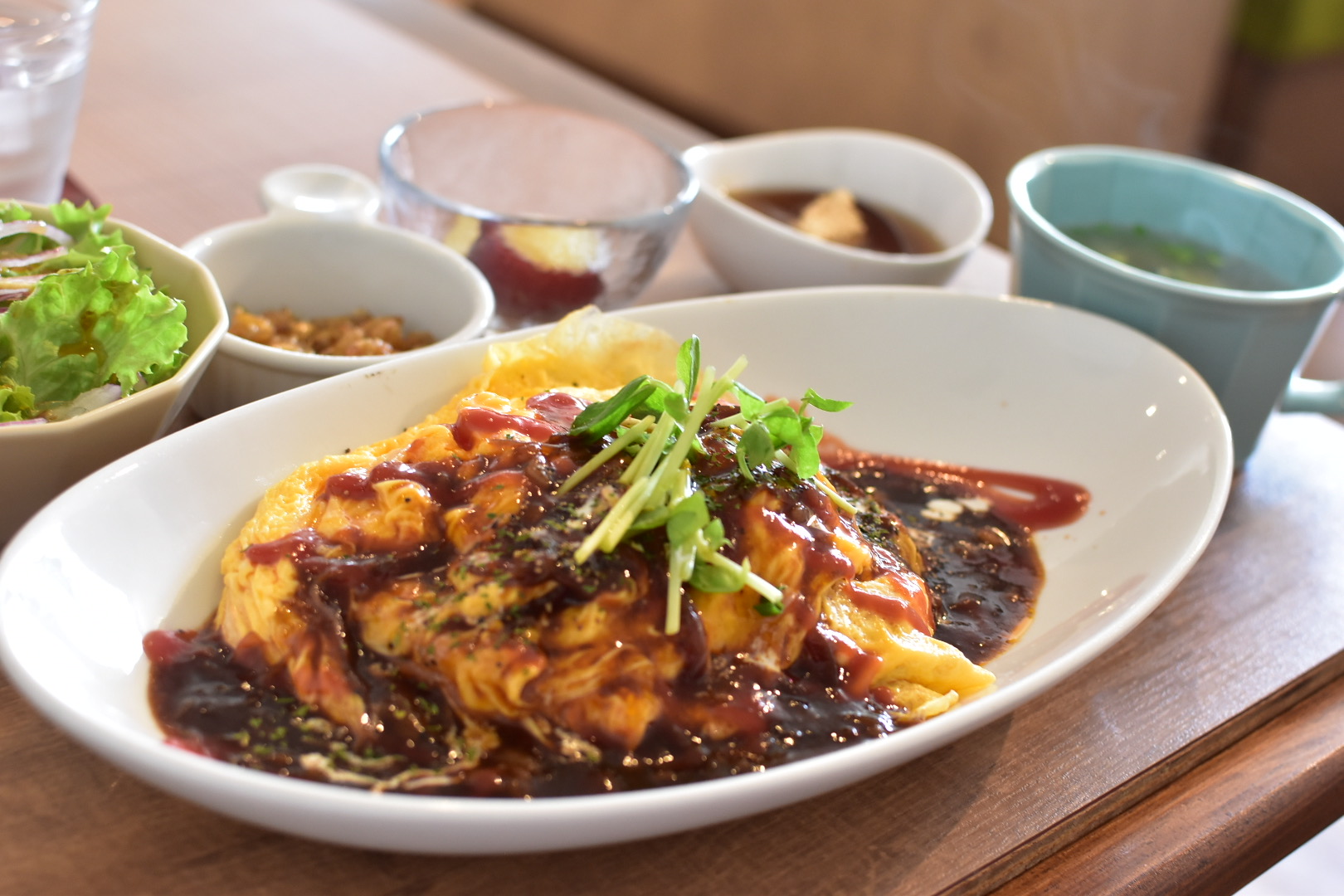 Fluffy Rice-Omelet ¥1,280
Fluffy Omelet melts in your mouth! You won't manage to make this at home!
Café Oshaberi na Spoons (Chatty spoons)
Address
Shiomi-cho 3-27,Beppu city
Telephone
0977-73-5573
Open time
 Lunch: 11:00-15:00
Dinner: 
Monday-Thursday 18:00-23:00 (L.O. 22:00)
Friday, Saturday and the day before holidays 18:00-24:00(L.O. 23:00).
Closed
Tuesday
If Tuesday is a national holiday, the office will be closed the following day.
Car parking
 Free of charge