"It's really difficult to maintain a building with so much history!" says Ms. Haruko Aha, the representative of Fujiya Gallery Hanayamomo.
This gallery is the only building from the Meiji era remaining in Beppu. You will be amazed by its rich history as Haruko-san guides you to the second floor.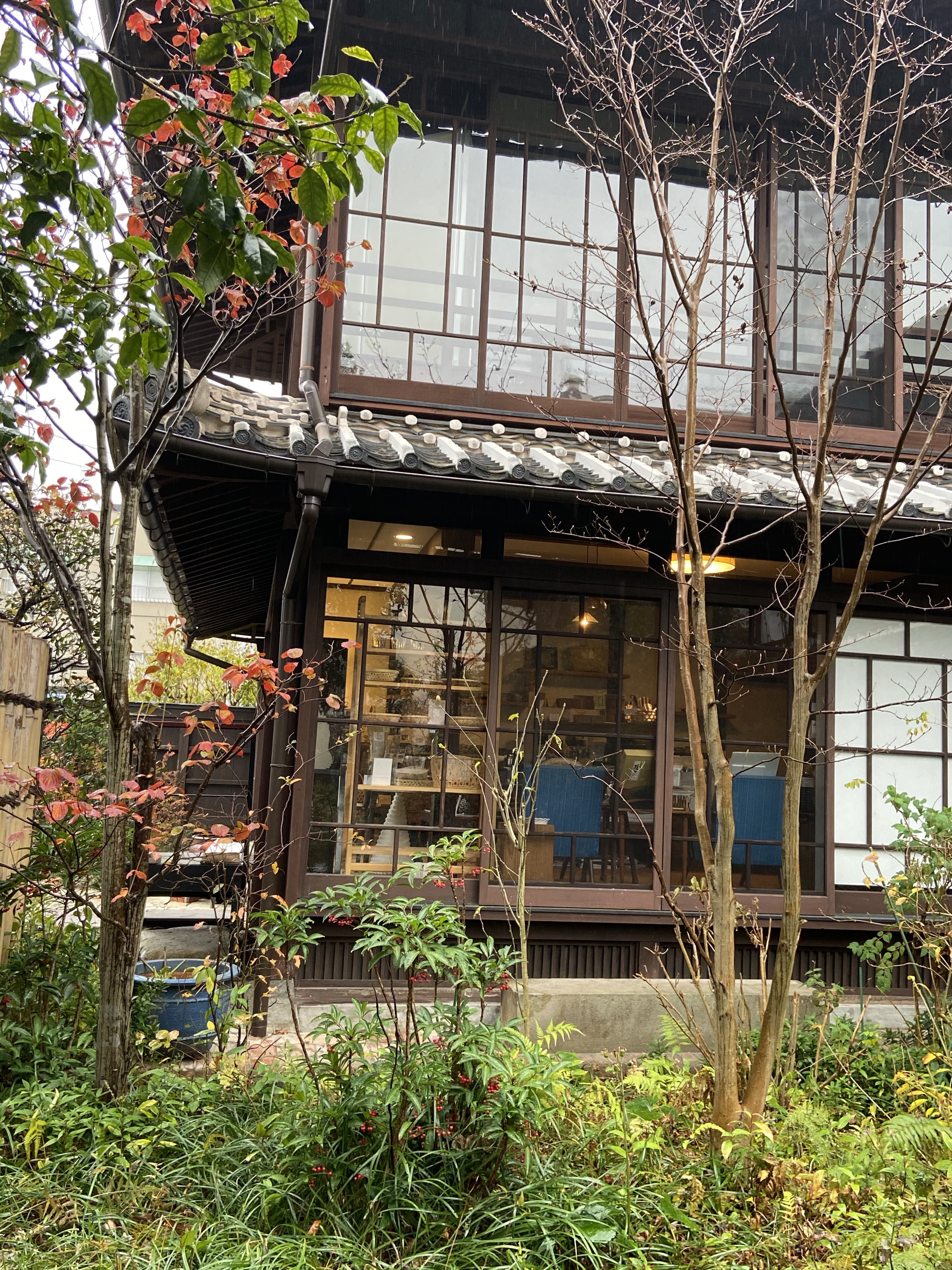 Sliding doors are paned with antique glasses in a western-style room with a grand piano. The room is a perfect setting for admiring the beautiful garden below.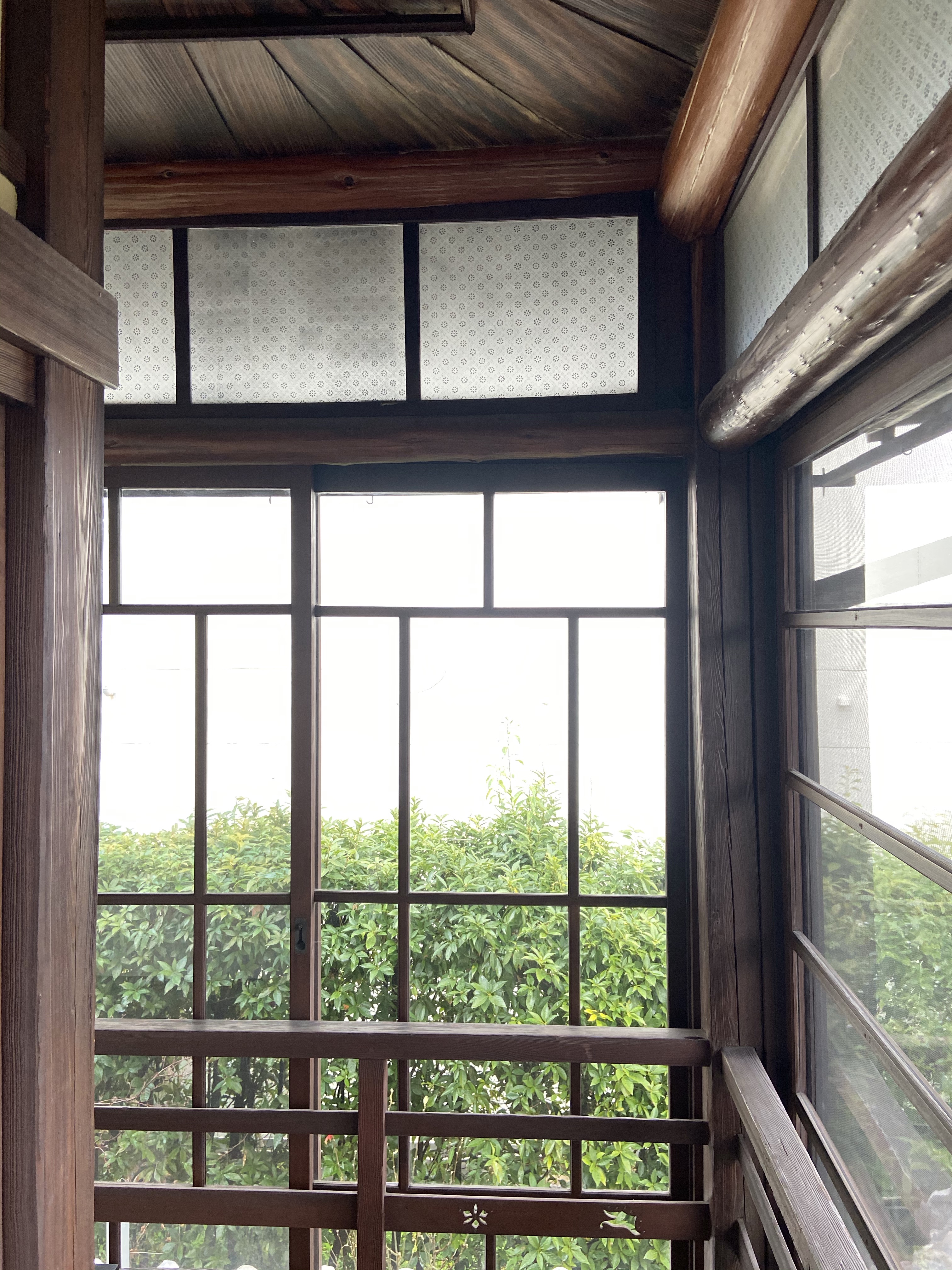 "There used to be sliding shutters on the veranda," says Haruko-san.
Since the glass doors are now in a place where shutters were, the handrail of the veranda is running at the inner side.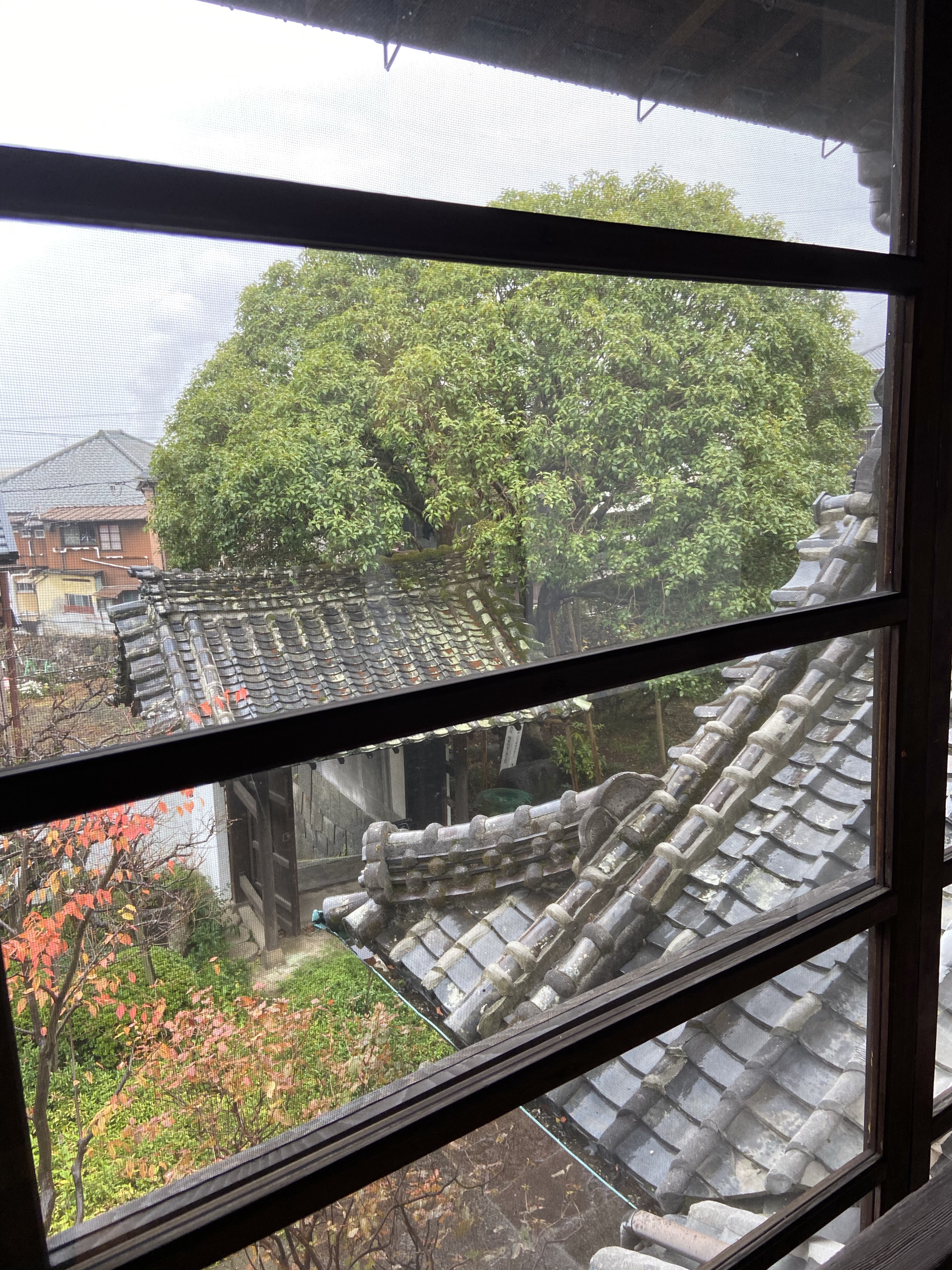 Right from here, I can look down on the Sweet Osmanthus tree.
It was hard to tell how big it was when I was looking up at the tree from the ground. But from here, I can see that it is 200 years old!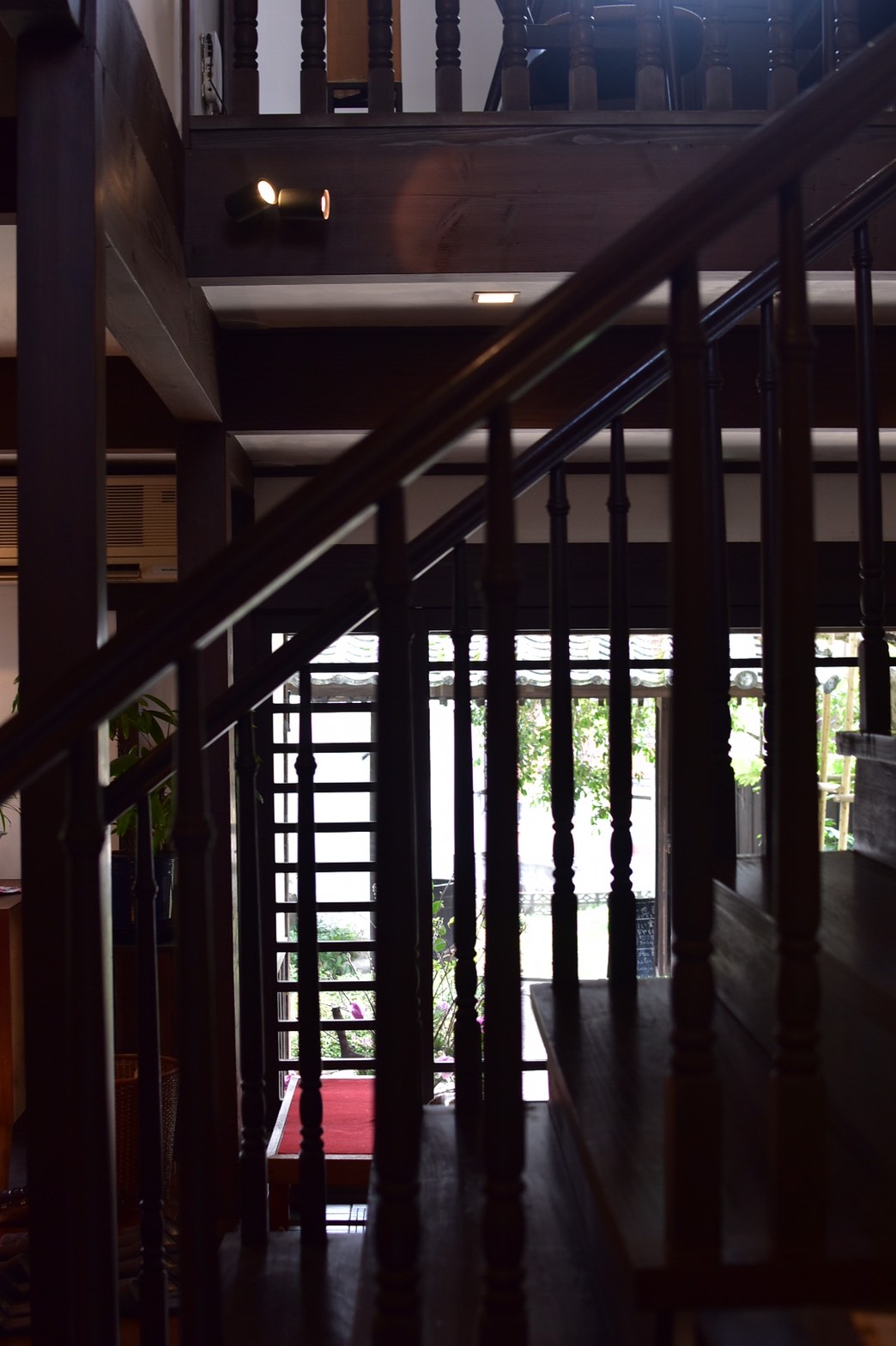 Fujiya Ryokan started its business in 1899.
It was operating with 10 rooms in the main building and 9 rooms in the new building. 
"We still preserve the best Japanese-style room as it was back then," Haruko-san said. 
The room on the south side has been renovated with wooden flooring, but we can travel back in time as we step into the room with Tatami mats.
Frosted glass windows from the Taisho era caught my eyes on the spot. They are framed in window sills made of very thick logs.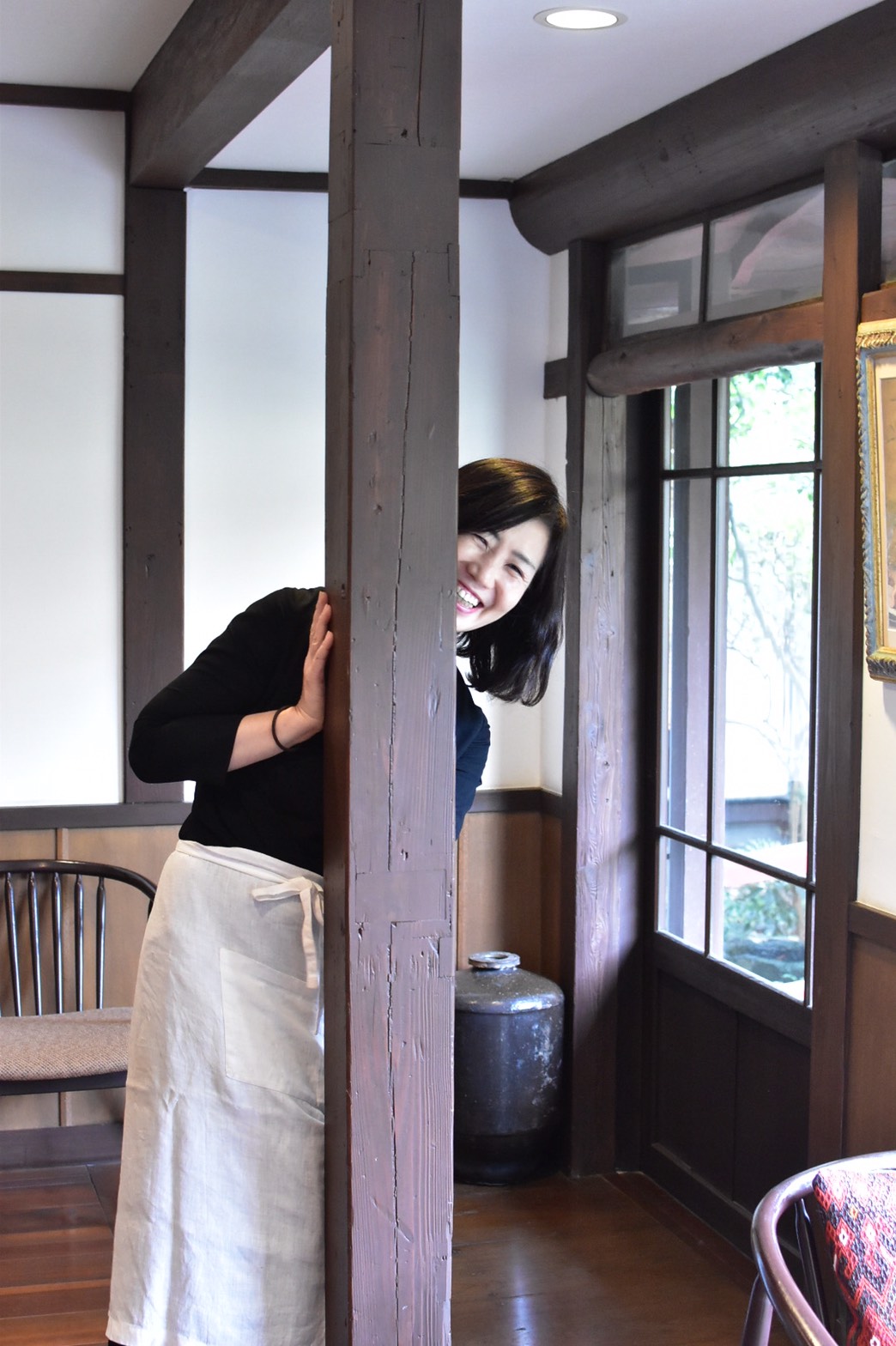 "Timbers are tapered, so the craftsman had to cut the glass diagonally to fit it perfectly on the window sill. This is a so-called hands-on approach, I guess. ", Haruko-san laughs.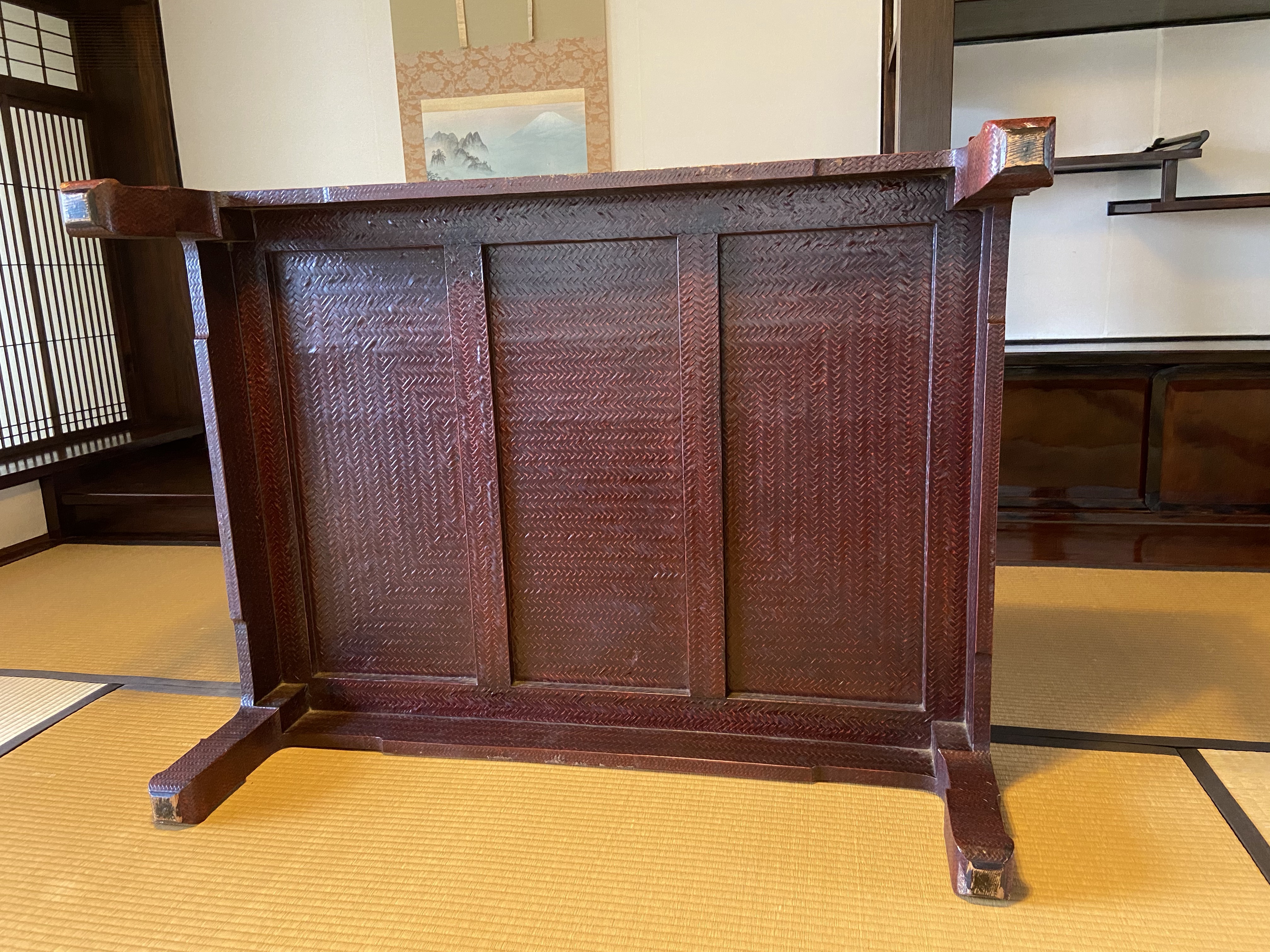 What amazed me in the room was the table made of rattan lacquerware.
The elaborate bamboo work is varnished with bright crimson Urushi resin on both back and front, flashing off its breathtaking beauty.
"Don't we usually see this only in trays?" I asked. 
She told me it was a special made-to-order at Saito Lacquer Wares on Akiba Dori Street.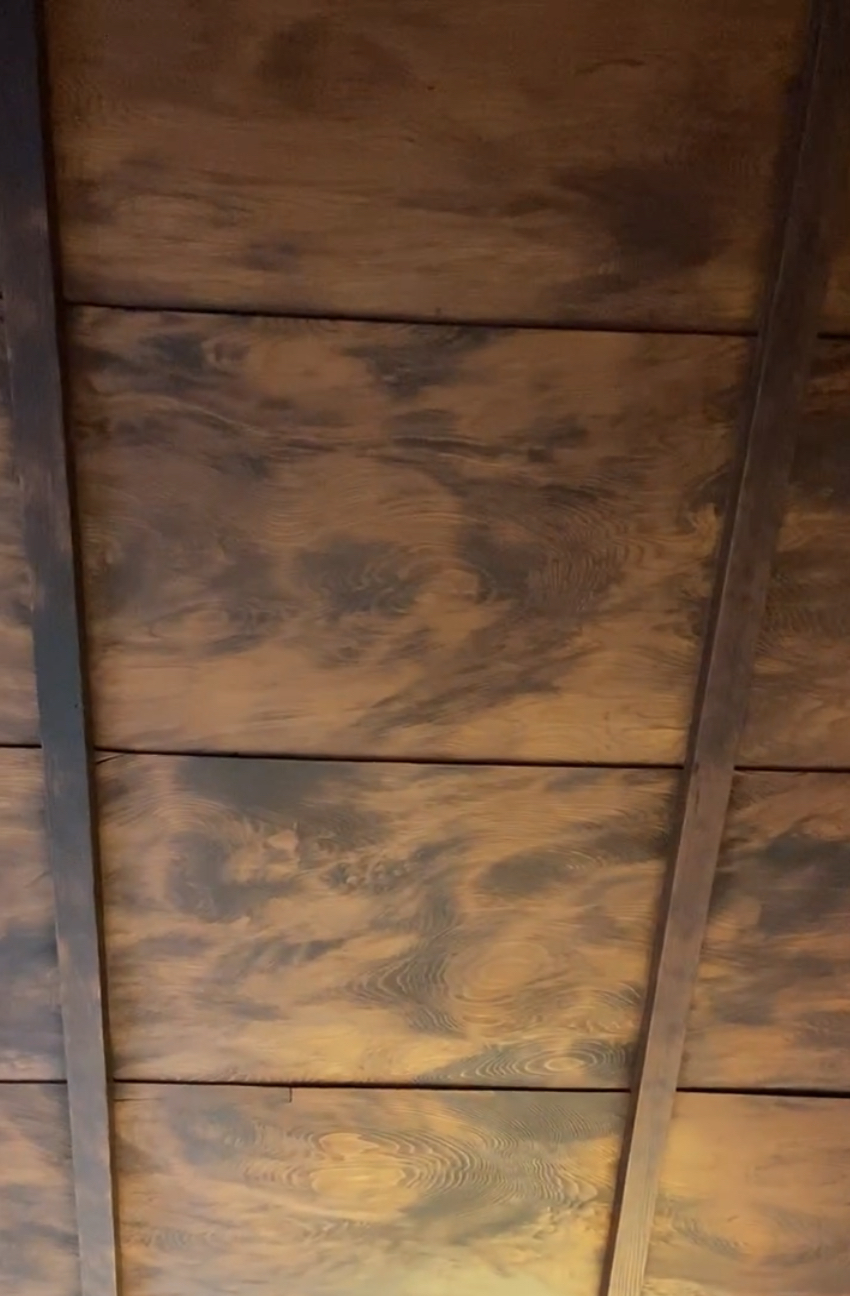 As I was looking around the room, I saw its ceiling with Japanese cedar, Yakusugi. 
"Wow!"I couldn't hold my excitement.
"Yakusugi in the south slowly gets black oil stains like this. You see, that one on the north doesn't have it."
She also added, "There used to be an unwritten rule that the head of a family had the oil-stained Honma room, and the rest stayed at the ordinary cedar-ceiling "Next Room" which has no stains."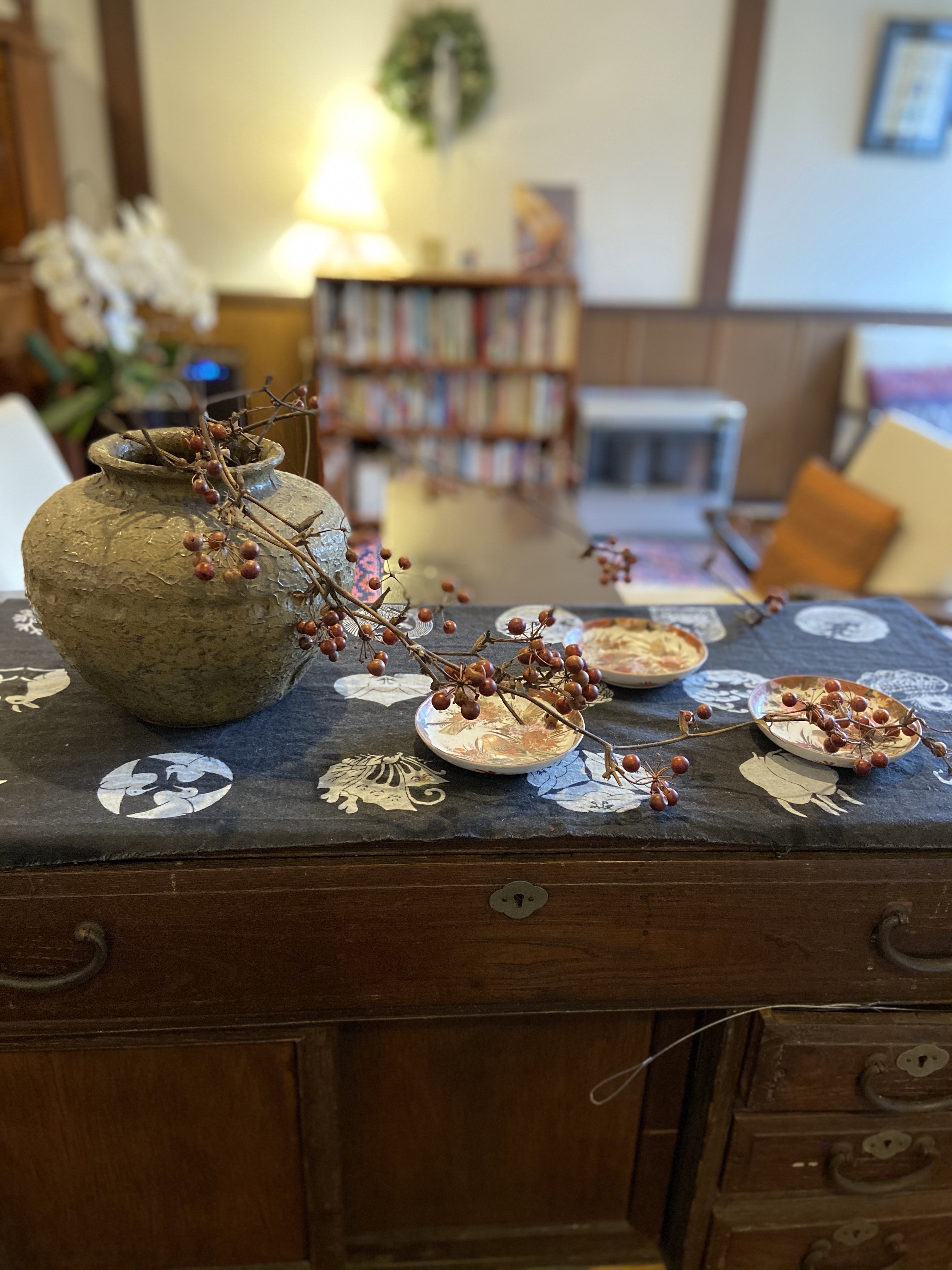 In Tatami rooms, wood-carved openwork panels called Banma are fitted above the sliding partitions of rooms. 
In the Meiji era, there were no specialized artists for Banma, and the decoration I see here is not too elaborate. Carpenters drew the motif by themselves and carved them with fretsaws. But the designs are modest and charmed with originality.
The pullers of slide-doors "Fusuma" also show their playfulness.
"Bats, teapots… Oh, this is a musical instrument "Biwa". I wonder if this one is a ship oar. … It's hard to know what some of them are actually." Haruko-san laughs. 
The décors on Fusuma doors and shelves are also the creation of craftsmen.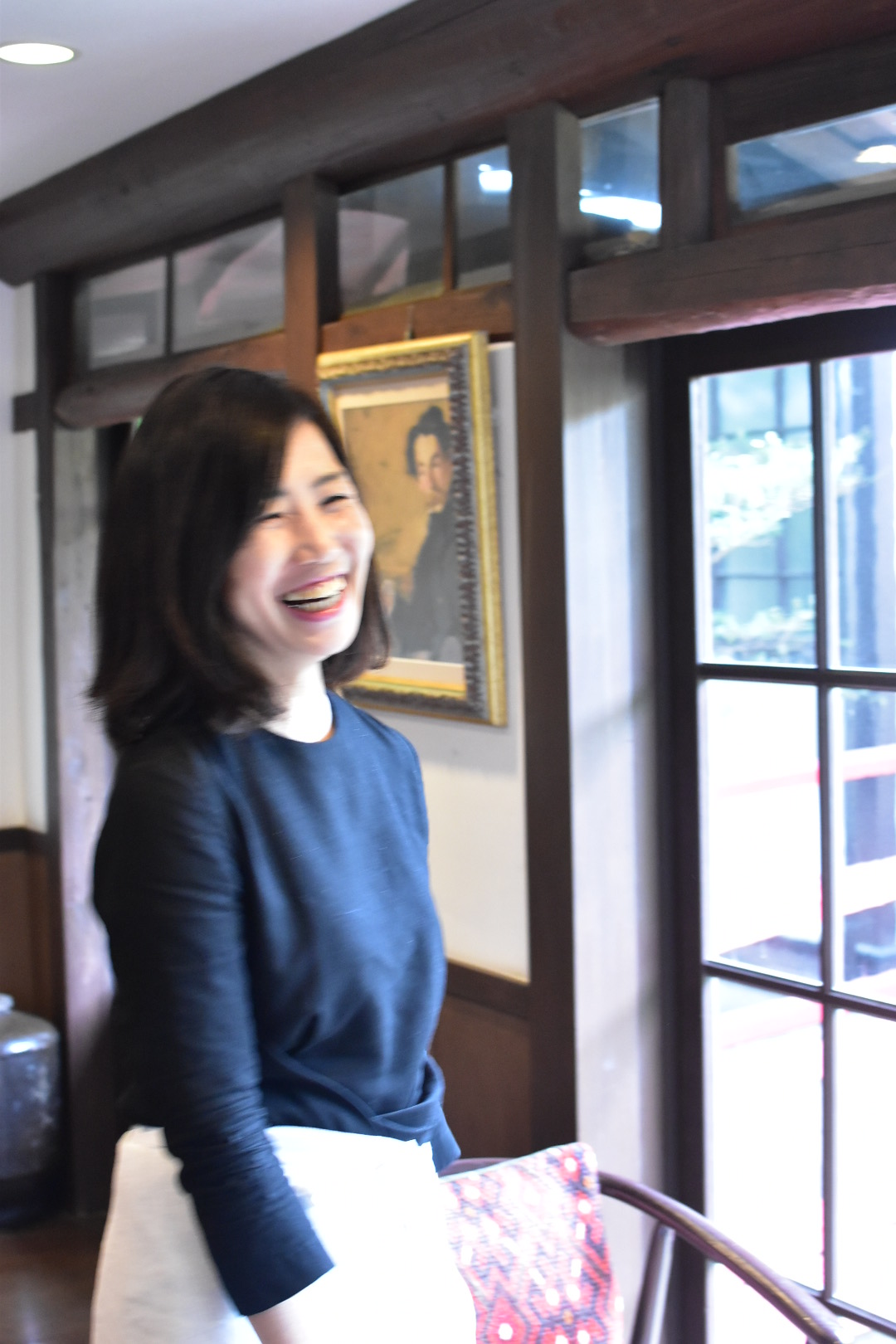 "They have scattered a lot of such "extras" all over the room. They must have had a lot of emotional leeways back then," she added. 
She opened the Fujiya Gallery as a place to hold concerts and exhibitions after the Ryokan business came to an end. 
"Visitors come, interact, and take their experiences back home. It may not be so different from when it was a Ryokan!"
These days, many old buildings have been destroyed or renovated for the reason that they are very difficult to maintain. Despite that, Haruko-san exerts herself to preserve every detail of this valuable heritage to the next generation. Fujiya Gallery Hanayamomo is such a unique place to be for those who treasure time and space.
BE@BEPPU Recommendation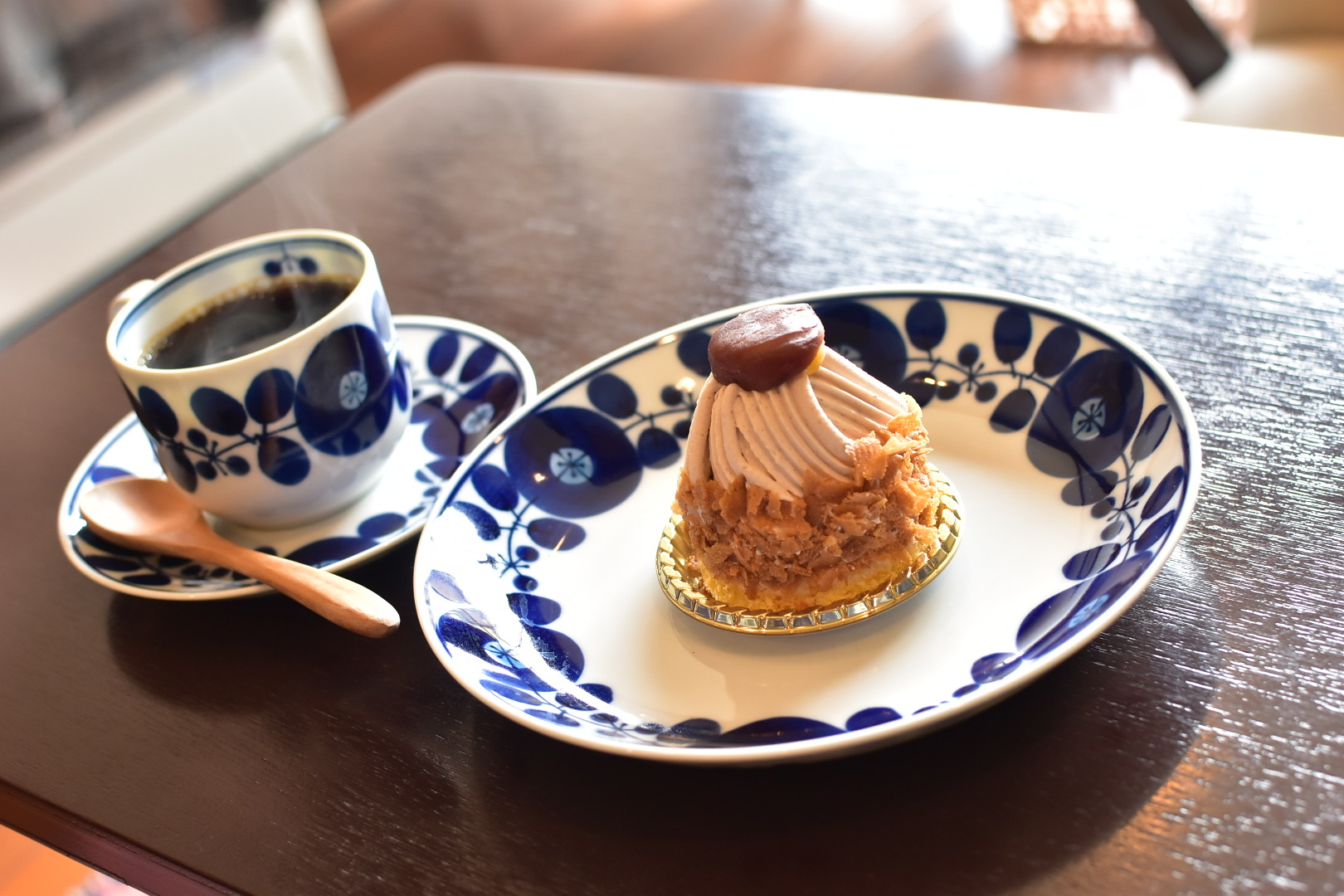 Mont Blanc cake and Coffee for ¥990
Coffee in a decorative cup served in a calm atmosphere. Enjoy a blissful time with accompany of sweet cake.
Fujiya Gallery Hanayamomo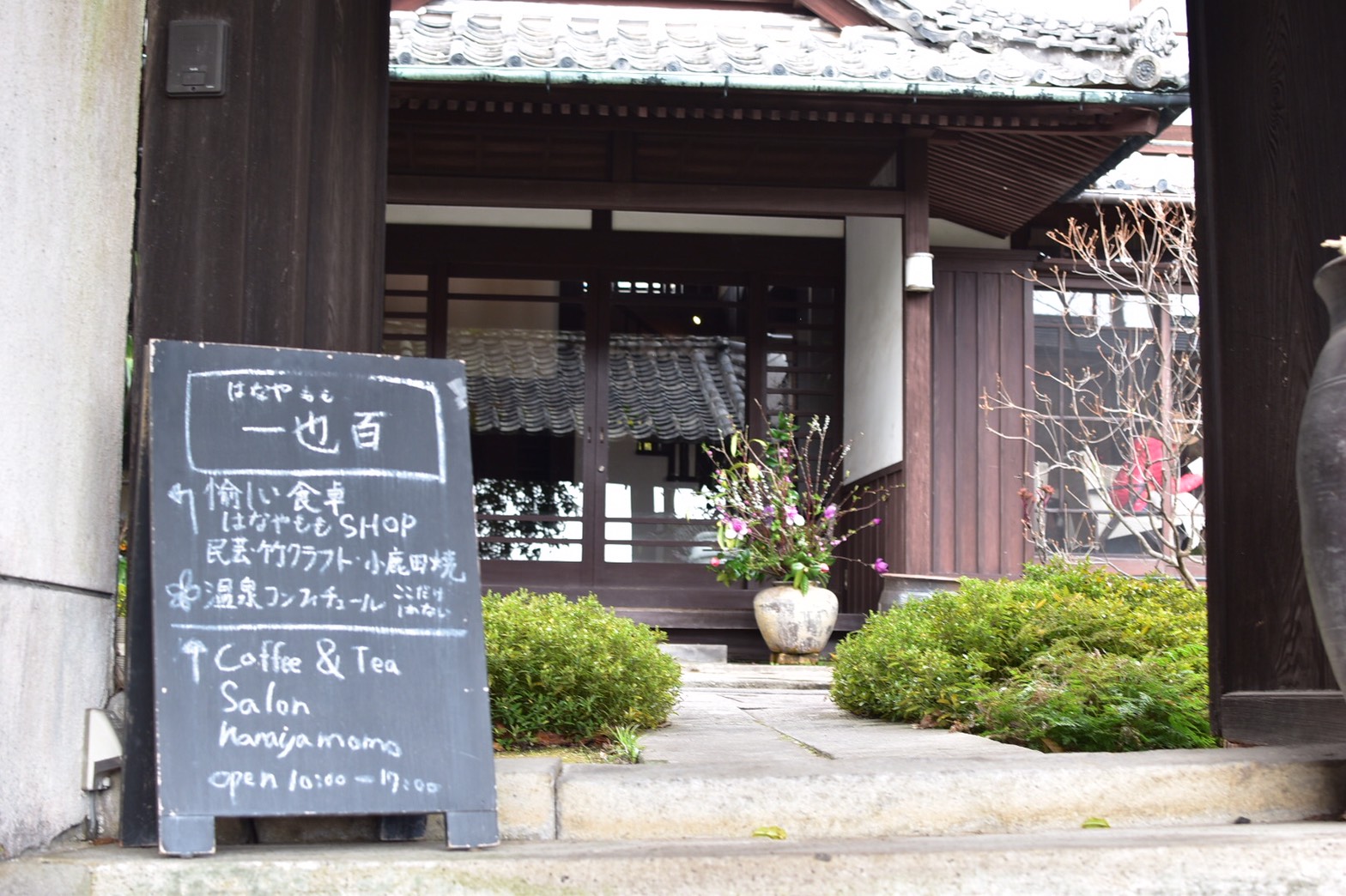 | | |
| --- | --- |
| Address | Kannawa ue 1,Beppu city |
| Telephone | 0977-66-3251 |
| Open time |  10:00-17:00 |
| Closed |  Monday,Tuesday |